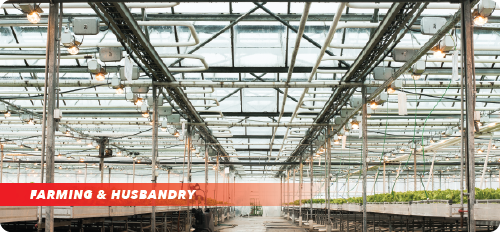 Mengenal Lebih Dekat Bidang Usaha Farming and Husbandry dan Alat Angkatnya
Bidang pertanian dan peternakan merupakan dua bidang sektor industri penting di Indonesia yang selalu berjalan beriringan satu dengan lainnya. Keduanya adalah faktor pendukung ekonomi di Indonesia sehingga harus benar-benar dilakukan dengan maksimal. Farming and husbandry memang tidak seperti layaknya industri konstruksi dimana banyak alat berat yang digunakan namun keduanya tetap masih membutuhkan beberapa alat angkat untuk memindahkan produk atau barang.
Seperti Apa Bidang Kerja Farming and Husbandry di Dalam Negeri
Bidang pertanian merupakan sebuah aktivitas pemanfaatan dari organisme sumber daya hayati yang pelakunya adalah manusia guna menghasilkan bajan pangan, sumber energi dan juga bahan baku. Selain itu, bidang pertanian juga digunakan untuk mengelola lingkungan hidup. Banyak orang yang menamakan kegiatan untuk mengelola maupun memanfaatkan sumber daya alam hayati ini sebagai budidaya dan pertanian seringkali dikenal dengan bercocok tanam atau dikenal Crop Cultivation.
Selain itu bidang ini pun juga mencakup peternakan yaitu pembesaran hewan ternak yang dikenal dengan raising ataupun pemanfaatan bioenzim dan mikroorganisme. Bisa juga dalam bentuk mengelola produk seperti keju atau ekstraksi layaknya penangkapan ikan dan sebagainya. Anda harus tahu jika Indonesia merupakan negara yang sangat mengandalkan sektor farming and husbandry ini bahkan mata pencaharian penduduk Indonesia sebagian besar adalah bertani.
Selain itu peternakan di Indonesia juga bukan hanya sebatas memelihara hewan ternak, membesarkan dan kemudian menjualnya karena tujuannya sudah pasti untuk mendapatkan keuntungan dengan menerapkan prinsip manajemen dalam faktor produksi yang sudah dikombinasikan dengan maksimal. Berdasarkan dengan ukurannya, ada dua golongan untuk peternakan ini yaitu peternakan hewan besar dan juga kecil bahkan ras juga mempengaruhinya.
Deskripsi Detail Bidang Pekerjaan Farming and Husbandry 
Bidang teknologi farming and husbandry disini sangat luas dan ilmu mereka dapat diterapkan dengan sangat detail untuk bidang tertentu. Mereka yang belajar ilmu ini bukan hanya untuk menjadi petani maupun peternak. Jangan sampai salah menafsirkan karena begitu banyak hal yang dapat dilakukan bidang ini bahkan begitu mendetail sehingga mampu mendukung Indonesia dengan baik dan inilah beberapa bidang pekerjaan dalam kedua industry yang saling berkaitan ini antara lain:
Agroteknologi


Ini merupakan suatu cabang ilmu dari pertanian yang merupakan gabungan dari beberapa ilmu yang saling terkait. Di dalam ilmu ini, para ahli bisa belajar tentang dasar ilmiah untuk menganalisis, menemukan sekaligus juga memecahkan masalah dengan menggunakan cara berpikir yang kreatif, analitik dan juga eksploratif di bidang agronomi. Disini para ahli akan belajar lebih dalam tentang bidang botanikal dimana Anda dapat belajar tentang tumbuhan sekaligus cara mengolahnya demi kelestarian lingkungan secara berkelanjutan demi mendukung pembangunan Indonesia.
Peternakan


Di bidang ini, Anda bukan hanya akan belajar tentang memelihara hewan melainkan semua hal yang memiliki kaitan dengan peternakan termasuk teknologi yang digunakan dalam peternakan tersebut. Agrobisnis yang ramah lingkungan juga ditemukan di sebagian penerapan dalam ilmu pengetahuannya. Semua hal tentang teknologi seperti teknologi pakan dan produksi bisa ditemukan di dalamnya. Bahkan industri untuk obat hewan maupun pakan ternak juga
Peran dari Farming and Husbandry Untuk Pertumbuhan Ekonomi di Indonesia
Sebenarnya sektor perikanan, pertanian dan juga peternakan perannya sangat penting bagi pertumbuhan ekonomi di dalam negeri ini. Industri tersebut terbukti mampu menyerap tenaga kerja yang jumlahnya paling besar yaitu sekitar 32% dari populasi penduduk di Indonesia yaitu sekitar hampir sebanyak 50 juta orang. Namun memang sektor pertumbuhannya tidak berjalan dengan cepat dan terbilang lambat untik setiap tahunnya sekitar 3 hingga 4 persen dibandingkan sektor yang lain.
Namun pemerintah beranggapan jika penerapan sektor farming and husbandry ini juga mampu meratakan perekonomian dengan baik ke semua wilayah. Adanya kolaborasi dengan kemitraan antara petani, peternak dan sebagainya yang terkait akan mendorong pertumbuhan ekonomi ini dan tentunya bisa mengurangi impor bahan pangan entah itu beras hingga daging di masa depan dengan produksi sendiri. Belum lagi dengan adanya sistem digital dalam teknologi akan makin membantu.
Dari tahun ke tahun, semua sektor pertanian dan peternakan ini harus selalu ditingkatkan dengan baik dan memperbanyakan penyerapan tenaga kerja supaya hasilnya semakin mendukung perekonomian yang lebih maju lagi. Apalagi kini Indonesia masih dapat tahapan sebagai negara berkembang yang membutuhkan sokongan dari dalam untuk maju. Kini berbagai macam penggunaan alat angkat yang modern pun digunakan untuk menunjang kelancaran dalam kerja.
Apa Saja Alat Bantu Angkut yang Digunakan di Bidang Farming and Husbandry?
Meskipun bukan bidang sektor konstruksi, namun penggunaan alat angkat atau angkut tetap diperlukan di dalam kedua bidang farming and husbandry ini untuk mengangkat maupun memindahkan sesuatu sehingga jauh lebih mudah dan inilah beberapa aksesoris alat bantu angkat yang sering terlihat dalam bidang pertanian maupun peternakan antara lain:
Ini merupakan tali untuk alat bantu angkat yang terbuat dari bahan nilon dimana bahan ini adalah serat sintetis yang paling kuat dan memiliki sifat sangat tahan dengan gesekan sekaligus bisa menerima hentakan yang sangat tinggi sehingga tidak mudah putus dan rusak. Selain itu sangat tahan lama dan juga kuat dengan breaking load yang begitu tinggi.
Ini merupakan katrol kerekan manual yang didesain untuk mengangkat maupun menarik beban dan digerakkan dengan menggunakan tangan. Sebagian alat ini dilengkapi dengan rem sehingga barang yang diangkat maupun ditarik tidak akan terjatuh. Selain itu, alat ini juga bisa mengangkat beban bahkan berton-ton meskipun masih dengan tenaga manual.
Ini merupakan alat bantu untuk memindahkan barang dari satu tempat ke yang lainnya dan terbuat dari besi yang sangat tebal dengan memiliki daya tahan yang begitu kuat. Kelebihannya adalah troli bisa digunakan baik untik keperluan indoor maupun outdoor dengan kapasitas angkat yang sangat besar bahkan bisa mengangkat barang sampai 3 ton dan memiliki dimensi yang portable sehingga sangat efisien untuk digunakan.
Ini merupakan hoist seling listrik atau katrol dengan tenaga elektrik yang digunakan untuk mengangkat dan memindahkan barang dalam massa yang besar. Namun alat ini sebaiknya tidak untuk diinstal pada crane yang manual seperti jib maupun gantry crane. Pergerakan dari troli seringkali dapat dilakukan dengan cara menarik beban hoist maupun blok yang jauh lebih rendah dan seringkali menyebabkan tali kawat akan keluar atau bisa merusak rope guidenya.
PT Sumber Mega Jaya Menyediakan Berbagai Alat Bantu Angkat Farming and Husbandry
Semua peralatan yang dibutuhkan untuk farming and husbandry dapat ditemukan dengan mudah melalui PT. Sumber Mega Jaya dan harganya pun terjangkau tanpa meninggalkan kualitas sama sekali. Anda tidak akan mungkin kecewa disini karena semua kebutuhan tersedia dengan baik dan maksimal. Anda juga akan bisa memilih tipe yang berbeda dari masing-masing alat bantu angkat sesuai dengan yang Anda butuhkan di dalam bisnis dengan penjelasan yang mudah untuk dipahami. Jika Anda tidak berada dalam satu kota dengan PT. Sumber Mega Jaya, maka Anda pun dapat mengakses situs resmi mereka langsung dan carilah pada kotak "search" alat yang Anda butuhkan di dalamnya dan akan langsung muncul semua peralatan yang terkait dan Anda butuhkan disana. Klik Icon Whatsapp di pojok kanan bawah untuk segera mendapatkan penawaran menarik kami.