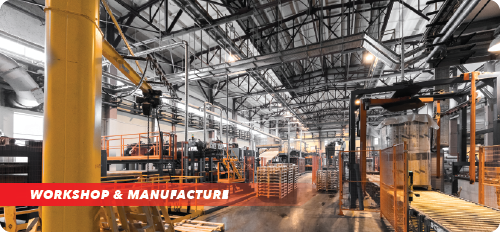 Mengenal Lebih Dekat Bidang Workshop and Manufacture di Indonesia
Industri di Indonesia mulai berkembang dengan baik dan ini juga merupakan salah satu pendukung pertumbuhan ekonomi di dalam negeri dalam rencana untuk menjadikan Indonesia sebagai negara maju di wilayah Asia Tenggara. Salah satunya adalah industri workshop and manufacture yang sudah jelas menjadi salah satu industri yang sedang mendominasi perekonomian di dalam negeri ini dengan beragam fungsi dan juga bidang yang digeluti di dalamnya.
Seperti Apa Siklus Kerja Dalam Workshop and Manufacture
Sebelum mencari tahu dan mengenal lebih jauh lagi tentang bidang kerja ini, ada baiknya untuk mengenal apa sesungguhnya yang dikenal dengan manufaktur. Ini sesungguhnya merupakan sebuah cabang dari usaha atau industri yang menggunakan mesin-mesin sebagai pengaplikasiannya. Selain itu, industri yang satu ini juga menggunakan peralatan kerja termasuk juga dengan tenaga kerjanya ditambah sebuah proses yang panjang untuk mengubah bahan mentah.
Bahan mentah ini kemudian akan diolah menjadi barang jadi yang dianggap mempunyai nilai jual. Sebenarnya workshop ini pun juga dapat ditujukan pada aktivitas atau kegiatan manusia seperti membuat kerajinan tangan sampai menggunakan teknologi yang tinggi. Akan tetapi, istilah ini sering digunakan dalam dunia industri dan biasanya bahan mentah yang dijadikan barang jadi itu memiliki skala yang begitu besar. Proses manufaktur ini terdapat di berbagai bidang dari sistem ekonomi.
Workshop and manufacture seringkali dianggap sebagai produksi bebas dalam perekonomian di pasar bebas untuk kemudian dijual kembali kepada konsumen dengan tujuan untuk memperoleh keuntungan yang besar. Ada berbagai macam tipe manufaktur ini yang perlu Anda ketahui dengan baik dan tekniknya pun juga banyak. Proses produksi yang dilakukan di dalam workshop maupun juga pabrik manufaktur ini haruslah sesuai dengan SOP atau Standar Operasional Prosedur.
Proses Kerja Bidang Workshop and Manufacture
Proses di dalam bidang industri workshop and manufacture ini benar-benar banyak dan juga tidak mudah. Akan tetapi, di dalamnya juga terdapat beberapa karakteristik hal yang dikerjakan sampai barang itu kemudian siap untuk dipasarkan secara luas antara lain:
Adanya penggunaan mesin-mesin yang berskala besar
Kegiatan produksi yang dilakukan di dalam pabrik manufaktur maupun juga workshop seringkali menggunakan peralatan maupun mesin dengan skala besar untuk dapat menghasilkan berbagai macam produk dalam jumlah besar yang telah ditentukan menggunakan kualitas tertentu yang berbeda. Namun tentu saja kegiatan produksi ini pun juga membutuhkan kekuatan manusia yang berpengalaman sehingga mampu mengendalikan, mengontrol sekaligus juga merawat mesin yang digunakan.
Proses dalam mengelola produk
Aktivitas dalam perusahaan yang dilakukan dengan menggunakan pengolahan bahan mentah ini untuk dijadikan sebagai barang jadi dimana semua prosesnya membutuhkan tenaga dan juga waktu yang begitu besar. Barang siap jadi ini kemudian akan langsung dijual kembali kepada konsumen namun setelah melalui proses pemasaran.
Berbagai macam aktivitas produksi di dalam perusahaan workshop maupun manufaktur ini pada umumnya sudah jelas sangat kompleks sehingga benar-benar membutuhkan adanya pembagian tugas dan sistem koordinasi yang baik untuk setiap divisi. Contohnya adalah tenaga untuk operator mesin yang bekerja untuk selalu memastikan mesin menyala sesuai dengan fungsinya sementara mereka yang bekerja di bagian quality control akan memastikan jika semua produk yang dihasilkan sudah sesuai dengan standar dan cukup layak untuk dijual kembali ke pasaran.
Supaya bisa menghasilkan berbagai produk yang dianggap berkualitas apalagi jika jumlahnya besar, maka sudah jelas biaya yang dikeluarkan pun juga sangat besar hanya untuk mendukung seluruh kegiatan tersebut. Biaya yang digunakan untuk berbagai macam kegiatan mulai dari pengadaan bahan baku, perawatan mesin, biaya tenaga kerja dan sebagainya. Meskipun biaya yang dibutuhkan juga begitu besar, namun potensi untuk memperoleh keuntungannya pun juga lebih besar lagi.
Workshop and Manufacture Memegang Peranan Besar Pada Ekonomi Nasional
Industri workshop and manufacture ini benar-benar harus dilakukan dengan baik mengingat ini merupakan motor penggerak perekonomian dalam negeri yang paling besar. Faktanya adalah Indonesia sudah menjadi tempat manufaktur yang terbesar seluruh Asean dan memberikan kontribusi yang sangat besar untuk ekonomi nasional. Perkembangannya di Indonesia sudah dapat menggeser peran dari commodity based untuk menjadi manufacture based dan pemerintah pun terus melakukan transformasi.
Industri dalam manufaktur ini dianggap jauh lebih produktif dan bisa memberikan banyak sekali efek yang berkesinambungan secara luas sehingga nilai tambah meningkat pada bahan bakunya, bisa menambah pekerja dan menghasilkan berbagai sumber devisa yang terbesar sekaligus penyumbang bea cukai. Saat ini, industri yang besar adalah dari industri logam, tekstil dan juga angkutan karena daya beli dari masyarakatnya begitu besar untuk jenis dari produk yang berasal dari kategori itu.
Alat Bantu Angkut yang Familiar Terlihat Pada Workshop and Manufacture
Untuk terus menggerakkan produksi ini, maka sudah jelas jika produsen banyak menambah berbagai macam penggunaan mesin termasuk juga dengan alat bantu yang akan mendukung kinerja dengan tepat sehingga bisa bekerja maksimal dan inilah beberapa alat yang sering digunakan antara lain:
Ini merupakan sebuah alat yang digunakan untuk mengangkat beban dan caranya adalah dengan mengaitkannya pada hook ini sebelum diangkat. Hook tidak bekerja sendirian melainkan seringkali terdapat alat yang melengkapinya seperti kait pengaman yang digunakan untuk mencegal adanya pelepasan dari pengait tali kawat sling itu atas beban yang telah terpasang.
Ini merupakan sebuah rantai baja yang khusus digunakan untuk mengangkat beban maupun menarik bebannya dengan grade 80. Kelebihannya adalah rantai ini anti karat dan tahan pula dengan berbagai benturan bahkan tahan panas sekalipun.
Ini adalah salah satu alat dari lifting clamp yang menggunakan magnet sebagai media untuk mengangkat beban dan langsung bersentuhan dengan barangnya. Fungsinya untuk mengangkat barang yang sangat berat dan terbuat khusus dari logam seperti layaknya plat baja dan plat besi. Lifter yang satu ini mempunyai sistem yang sudah teruji semua keamanan dan bisa dikontrol dengan sangat mudah dan sederhana.
Ini adalah alat bantu yang dapat memindahkan barang dari satu tempat ke tempat yang lainnya dalam aktivitas operasional. Strukturnya terbuat dari bahan besi yang sangat tebal dan jelas memiliki daya tahan yang sangat baik untuk menahan beban. Troli juga dapat digunakan di bagian outdoor maupun indoor tanpa khawatir rodanya akan mengalami masalah. Troley ini juga mempunyai kapasitas mulai dari 150 kg sampai dengan 500 kg. Ada pula troli yang terbuat dari bahan stainless steel dengan 3 rak yang memiliki bentuk cekung untuk setiap bagian tingkatannya sehingga barang tidak mungkin jatuh ketika dipindahkan.
Dimana Membeli Peralatan Alat Bantu Workshop and Manufacture Terbaik?
Jika Anda masih ingin barang atau alat bantu angkat lainnya yang dapat membantu Anda dalam kegiatan workshop, maka Anda bisa menemukannya dengan mudah dalam PT. Sumber Mega Jaya karena perusahaan yang satu ini akan membantu Anda untuk mempermudah segala macam pekerjaan dan sistemnya mudah untuk dioperasikan. Anda juga akan mendapatkan buku manual dengan baik sehingga bisa mempelajarinya. Anda bisa berkonsultasi gratis tanpa biaya disini. Apapun pekerjaan workshop and manufacture Anda, semuanya dapat dilakukan dengan mudah bila alatnya mendukung dengan baik karena jika semua dikerjakan dengan sistem manual, maka Anda tidak akan pernah tahu kapan selesainya. Jadi, gunakan teknologi sebaik mungkin untuk bekerja. Klik Icon Whatsapp di pojok kanan bawah untuk segera mendapatkan penawaran menarik kami.