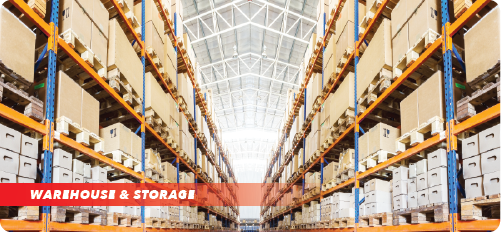 Mengenal Sistem Kerja dan Fungsi Warehouse and Storage
Meskipun terlihat remeh dan sepele, namun rupanya industri pergudangan dan penyimpanan merupakan penggerak dibalik layar untuk perekonomian Indonesia. Tanpa adanya gudang, maka barang produksi tidak memiliki tempat penyimpanan dan itu bisa menghambat proses yang lainnya. Bagian warehouse and storage ini juga merupakan bagian yang paling kental dengan yang namanya alat berat untuk mengangkut barang dengan massa yang begitu besar.
Peran Warehouse and Storage di Balik Layar Industri
Warehouse atau gudang adalah komponen yang sangat penting dan krusial dari sebuah rantai pasokan yang modern. Rantai pasokan ini termasuk di dalamnya berbagai macam kegiatan produksi mulai dari sourcing, kemudian produksi dan terakhir adalah distribusi barang termasuk di dalamnya adalah penanganan bahan baku sekaligus barang dari masih menjadi proses mentah hingga sudah menjadi produk jadi yang siap untuk dijual. Warehouse ini merupakan bagian dari proses logistik.
Fungsinya sudah jelas yaitu untuk menyimpan barang atau produk dan juga menyediakan berbagai macam informasi tentang status terkini sekaligus kondisi dari persediaan dan material yang tersimpan di dalam gudang sehingga informasi ini jelas uptodate dan bisa diketahui oleh siapapun pihak yang saling terkait dengan bidang warehouse and storage. Warehouse adalah bagian integral yang penting dan semuanya berdampak dari gudang seperti volatilitas pasar, memperpendek lead time.
Pengelolaan warehouse ini memiliki tujuan beberapa sasaran mulai dari speed yang artinya adalah kecepatan untuk menyampaikan langsung ke market dan terus memenuhi adanya perubahan permintaan dan ini menjadi isu yang sangat penting yang harus digunakan dalam manejemen sebagai strategi untuk dapat bersaing. Gudang juga memiliki efisiensi tinggi yang diukur sekaligus diperbaiki terus menerus oleh tim. Warehouse juga memiliki efektivitas dan juga reliability tinggi.
Fungsi Detail Warehouse and Storage Pada Industri
Jangan hanya berpikir jika warehouse and storage ini hanya merupakan sebuah tempat untuk menyimpan barang saja karena tentu saja ada banyak sekali sistem yang harus diurus dan juga lebih banyak lagi hal penting yang dilakukan sehingga mampu membuat semuanya berjalan dengan lancar. Tujuan yang paling utama dari gudang penyimpanan ini adalah untuk menjadi sarana pergerakan barang menuju konsumen sebagai target akhirnya. Namun tekniknya cukup rumit.
Fungsi yang paling terlihat utama di dalam gudang ini adalah untuk menjadi pusat bagi pengembalian barang yang dilakukan oleh konsumen jika mereka menerima barangnya tidak tepat. Kemudian bisa menjadi titik untuk meneruskan pengiriman barang menuju konsumen. Gudang juga menjadi sebuah fasilitas dalam merakit barang tertentu sebelum akhirnya dikirim kembali menuju konsumen. Gudang pun juga dianggap sebagai pusat pemilahan antara barang yang bagus dengan barang yang buruk.
Gudang juga menjadi pusat cross dock, konsolidasi dan tentu saja yang paling utama adalah untuk menjadi titik dalam menyimpan persediaan barang. Konteks bisnis yang sifatnya jauh lebih luas sangat perlu dipikirkan mengingat warehouse ini memiliki fungsi penting dalam komponen rantai pasokan. Pertimbangan juga harus dipikirkan termasuk tren industri atau pasar. Beberapa industri mungkin mengalami perkembangan maupun perubahan yang begitu signifikan dari perkembangan sebuah teknologi dan jelas ini berdampak penuh bagi kebutuhan warehouse.
Peran Warehouse and Storage Sebagai Penggerak Ekonomi
Sudah pasti warehouse and storage ini pun juga memiliki peran untuk mendukung pertumbuhan ekonomi dari belakang. Bayangkan saja jika tidak ada yang namanya gudang untuk menyimpan barang. Bisa jadi barang itu rusak karena terkena cuaca luar yang berubah-ubah dan juga kemudian kualitas barang itu pun menjadi berkurang. Sudah pasti jika barang itu sampai ke tangan konsumen, maka sudah pasti jika mereka akan kecewa dan merasa bahwa mereka telah dibohongi oleh seller.
Ini membuat pihak yang memproduksi mengalami kerugian. Karena itulah, peran gudang begitu penting meskipun tidak langsung terlihat pada konsumen maupun hasil penjualannya. Seperti yang disinggung sebelumnya, gudang ini berperan sebagai terminal konsolidasi atau memiliki fungsi sebagai tempat untuk dapat mengumpulkan barang yang asalnya dari beberapa lokasi produksi misalkan saja pabrik. Jadi gudang ini adalah tempat sementara sebelum barang disalurkan lagi.
Gudang akan menjadi tempat produsen mengumpulkan barang sekaligus juga mengatur barangnya sebelum kemudian dikirimkan kepada lokasi yang bersangkutan atau tujuan akhirnya. Di gudang ini pula, semua barang bisa diperiksa lebih dulu dan dipilah mana yang berkualitas dan tidak. Mana mungkin konsumen akan merasa puas jika mereka menerima barang yang rusak dan tidak sesuai dengan apa yang mereka inginkan dan karena itulah, perekonomian ditentukan dari gudang dulu.
Alat Bantu Angkat yang Familiar di Bidang Warehouse and Storage
Untuk mempermudah pekerjaan di dalam warehouse and storage, maka sudah jelas terdapat penggunaan alat bantu angkat maupun alat bantu untuk memindahkan barang sehingga semua bisa dilakukan dengan cepat dan tidak memakan waktu. Inilah alat bantunya antara lain:
Ini merupakan sebuah hoist dengan tenaga roda ratchet sehingga bisa pula dikenal dengan nama Ratchet Tuas Hoist. Alat ini merupakan alat bantu angkat yang portable yang sangat mudah untuk dioperasikan dengan menggunakan tangan. Fungsinya adalah untuk membantu di dalam proses penginstalan barang sekaligus dapat digunakan untuk menurunkan maupun mengangkat barang khususnya di daerah yang tidak memiliki sumber listrik.
Ini adalah sebuah aksesoris lifting yang sering terlihat menggantung pada hook crane dan melekat erat pada drum, plat baja maupun benda lain yang digunakan untuk pengangkatan barang. Tujuannya adalah untuk lifting point dan juga pengaman ketika barang sedang dipindahkan. Lifting clam ini memiliki ukuran yang berbeda, bobot yang tidak sama, bentuk maupun jenis yang berbeda karena tergantung kapasitas sekaligus kebutuhan.
Ini merupakan anyaman maupun tenunan kain yang sangat kuat dan telah dibentuk sedemikian rupa dalam bentuk datar maupun pipih dengan ukuran yang berbeda. Sementara webbing sling adalah webbing yang bagian ujungnya telah dijahit dalam bentuk lingkaran dan kegunaannya untuk alat kait menggantikan wire rope sling dan bisa juga chain sling kemudian dijahit dan dikaitkan untuk benda yang akan diangkat maupun ditarik.
Rantai yang satu ini terbuat dari plastik yang dilapisi dengan plate stainless link dan juga pin maupun nikel. Rantai plastik ini beratnya jauh lebih ringan dibandingkan dengan rantai besi maupun baja namun tidak cocok untuk digunakan pada suhu yang tinggi sehingga cocok untuk digunakan di tempat yang suhunya rendah bahkan sampai minus.
Carilah Alat Bantu Angkat Warehouse and Storage Pada PT. Sumber Mega Jaya
Kedua alat diatas tentu saja akan mempermudah segala macam pekerjaan di bidang pergudangan. Namun dimanakah menemukan kedua alat bantu ini? Sudah pasti jawabannya adalah pada PT. Sumber Mega Jaya yang dikenal sebagai salah satu agen terpercaya penyedia alat bantu angkat yang lengkap dari berbagai macam merk maupun juga berbagai macam tipe dengan harga yang ramah namun tidak meninggalkan kualitas yang harus dijaga selama ini kepada para pelanggan.
Selain itu, semuanya juga memiliki garansi sehingga jika barang warehouse and storage ini rusak, maka akan segera dapat diperbaiki tanpa membayar apapun selama masa garansi. Barang yang dijual semuanya adalah barang baru yang tidak akan mengecewakan perusahaan. Mereka sudah menjdai pemasok industri di berbagai wilayah Indonesia. Jadi segeralah menghubungi mereka dan menemukan alat bantu yang Anda cari untuk mempermudah segala macam pekerjaan. Klik Icon Whatsapp di pojok kanan bawah untuk segera mendapatkan penawaran menarik kami.