Snatch block merupakan sejenis katrol yang terdapat dalam selubung logam. Alat ini biasanya dirancang untuk menangani peralatan berat dan bekerja sebagai titik katrol untuk mengarahkan jalanya winch.
Snatch block biasanya diaplikasikan untuk meningkatkan kapasitas angkat atau tarik dari derek. Metode ini biasanya meningkatkan kapasitas angkat atau tarikan hingga 100%. Anda harus waspada terhadap gaya ekstra yang dimilikinya pada titik jangkar.
Pemakaian katrol jenis ini memungkinkan Anda dapat mengubah arah pada kabel winch dengan cara menonaktifkan titik jangkar, sehingga memungkinkan Anda untuk menarik gerakan pada 3 titik. Memiliki karakteristik yang kokoh dan tahan lama, katrol ini sangat ideal untuk mentransfer beban dalam jarak pendek.
Ketika digunakan bersamaan dengan winch, katrol jenis ini bisa meningkatkan kekuatan winch secara signifikan serta memungkinkan proses pada winch menjadi lebih mudah dan lebih mulus.
Bagaimana Cara Kerja Snatch Block?
Dalam berbagai kasus, satu katrol saja tidak dapat mengurangi gaya yang dibutuhkan untuk mengangkat atau menarik benda melainkan hanya mengubah arahnya saja. Jadi, bagaimana snatch bisa menggandakan daya tarik winch Anda? Pemulihan jalur tunggal normal tidak akan meningkatkan keefektifan pada winch, semua peningkatan daya berasal dari pemulihan winch jalur ganda.
Hal tersebut bisa dilihat ketika kabel atau garis winch dililitkan di sekitar snatch lalu dipasang lagi ke titik pemasangan pada kendaraan pemulihan. Ini artinya alat tersebut tidak akan menarik pohon, jangkar atau titik pemasangan lainnya, melainkan menarik benda tersebut keluar.
Bagaimana Cara Menggunakan Snatch Block?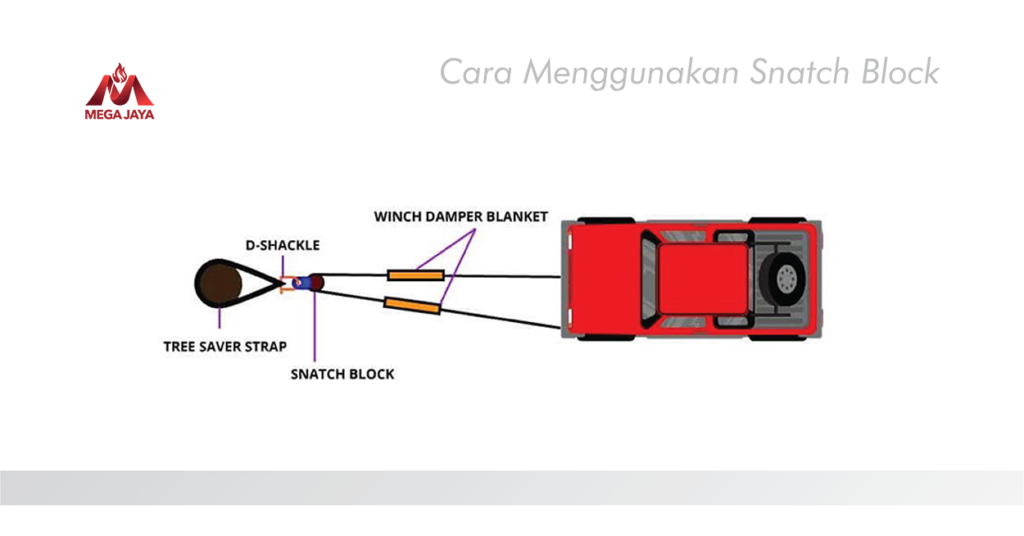 Untuk memahami bagaimana cara kerja snatch block, Anda bisa membayangkan saat pohon tumbang menghalangi jalan. Anda mungkin memiliki winch di truk milik Anda, kemudian harus menarik pohon tersebut keluar dari jalur agar tidak menghalangi jalan.
Dengan menggunakan pohon lain yang masih berdiri tegak untuk dijadikan titik jangkar pada katrol Anda, maka Anda bisa memasukkan kabel dari truk Anda melalui alat ini dan mengencangkannya ke pohon yang tumbang tadi.
Penambahan blok snatch di sekitar pohon memungkinkan Anda untuk mengarahkan winch, kemudian menarik pohon tumbang yang berat tadi ke samping dan keluar dari jalan. Sehingga pohon tumbang tadi tidak lagi menjadi penghalang.
Sebenarnya cara menggunakan snatch sangat mudah. Tapi Anda harus sangat hati-hati ketika menggunakannya dalam berbagai alasan keamanan. Anda bisa menggunakan unit ini dalam berbagai situasi yang berbeda. Selain kondisi di atas Anda bisa mencoba memakai snatch untuk memindahkan kendaraan yang macet lebih mudah dengan cara berikut ini :
Pertama-tama, parkir kendaraan penarik di permukaan yang rata dan stabil jika memungkinkan.

Lalu lepaskan kopling pada

winch

supaya kabel atau tali bisa dicabut dari

winch

tersebut.

Silahkan tarik kabel

winch

hingga mencapai kendaraan yang macet. Lalu buka pelat bagian samping

snatch

dan masukkan kabel

winch

lalu tutup seperti biasa.

Pastikan semuanya benar-benar aman.

Sekarang Anda tinggal menghubungkan dan mengamankan

shackle

ke

snatch

.

Di titik ini, Anda hanya perlu menghubungkan

shackle

ke titik jangkar yang kokoh pada kendaraan yang macet.

Anda kemudian bisa menarik tali

winch

melalui

snatch

lalu menghubungkannya kembali ke titik jangkar kendaraan yang akan dipindahkan.

Langkah terakhir, tinggal pasang kopling pada

winch

lalu pasang peredam garis pada kabel

winch

agar lebih aman.

Selanjutnya mulai lakukan

winching

lalu biarkan

snatch

melakukan kemampuannya.
Bagaimana Memindahkan Kendaraan dari Parit atau Hutan?
Snatch block sangat berguna apabila Anda ingin memindahkan kendaraan dari selokan atau di dalam hutan. Adapun tahapan caranya ialah sebagai berikut :
Sebelum memulai, terlebih dahulu parkirkan kendaraan di permukaan rata dan stabil. Cara ini dilakukan hanya jika disekitarnya ada kendaraan lain yang dapat dijadikan jangkar.

Kemudian Anda harus menghubungkan kait pegangan dan rantai ke titik jangkar yang kokoh dan stabil. Lebih baik lagi jika Anda menghubungkannya ke pohon terdekat atau kendaraan lainnya.

Sekarang, Anda memiliki 2 pilihan. Pertama, Anda bisa melingkarkan rantai ke sekitar titik jangkar lalu memasang rantai kembali ke kendaraan dengan kait.

Atau Anda juga bisa menghubungkan pengait secara langsung ke titik jangkar.

Di titik ini, Anda harus melepaskan kopling pada kendaraan

winching

. Lalu tarik tali atau kabel dari

winch

kemudian masukkan lewat

snatch.

Setelah itu, sambungkan bagian ujung kabel ke pasak kait pegangan. Kemudian Anda harus memasang pemasangan ujung ke titik jangkar mobil yang terjebak ke parit.

Namun jika tidak ada titik jangkar pada kendaraan yang macet atau terjebak, Anda dapat menggunakan tali derek pemulihan untuk melingkarkannya ke sekitar bagian yang kokoh pada rangka kendaraan yang macet atau rusak.

Lalu nyalakan mesin rig kendaraan yang akan dipindahkan dan mulai melakukan

winching

seperti biasa.
Dalam hal ini Anda akan membutuhkan beberapa alat pelengkap lain seperti tali kawat pengguling winch untuk memudahkan proses winching dan pemasangan ujung kait rantai dan pegangan.
Alat-Alat Lain Yang Mungkin Dibutuhkan
Alat lain yang akan dibutuhkan dalam sistem katrol snatch agar bekerja dengan baik ialah diantaranya penggulung winch, shackle, hook dan fitting, pengait rantai dan pegangan, tali penarik, peredam garis, dan lain sebagainya.
Jenis-Jenis Snatch Block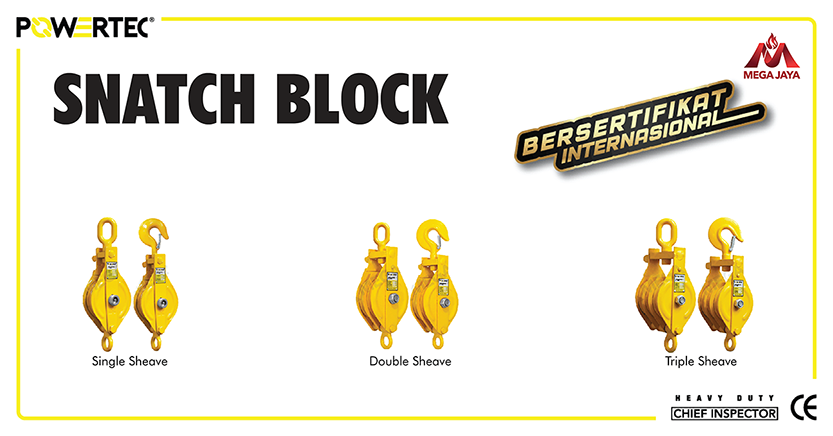 Ada beberapa jenis snatch block yang biasanya digunakan untuk barang-barang berat, diantaranya :
Snatch Block

With Hook

, biasanya diaplikasikan dengan derek dan

wire rope hoist

untuk penggunaan sementara.

Snatch Block

with Shackle

, digunakan untuk aplikasi

rigging

, baik sementara maupun permanen.

Swing Block

, biasanya diaplikasikan pada kendaraan derek dan

off roader

berukuran 4 x 4.
Sistem Keamanan Snatch Block
Penggunaan alat katrol ini bisa membahayakan jika digunakan dengan cara yang tidak tepat. Oleh karena itu, penting sekali bagi Anda untuk mengetahui cara pemasangan yang tepat dan apa saja yang harus dilakukan.
Saat digunakan bersamaan dengan winch, sejumlah besar gaya akan melewati katrol. Namun faktanya tekanan pada sambungan bisa mencapai 2 kali lipat dibandingkan beban sebenarnya yang ditarik. Apabila tekanan yang diberikan terlalu banyak, maka efek ketapel atau slingshot yang dihasilkan bisa mengakibatkan banyak kerusakan.
Sehingga banyak kekuatan atau tekanan yang bertumpu pada alat ini, jadi penting sekali untuk mempersiapkan peralatan terlebih dahulu dengan benar dan pastikan semua komponen sudah terpasang secara aman. Termasuk pada titik jangkar itu sendiri. Apabila titik jangkarnya tidak bisa menangani tekanan atau tidak aman, hal ini bisa mengakibatkan timbulnya bencana yang tidak diinginkan.
Snatch block dapat dijadikan sebagai alat tambahan yang baik untuk memindahkan kendaraan darat Anda. Anda bisa menemukan berbagai macam snatch dari berbagai merek yang berbeda. Sehingga tidak sulit untuk menemukan alat ini sesuai kebutuhan Anda. Namun pastikan Anda mendapatkan atau memilih snatch yang berkualitas agar bisa mengandalkan alat ini pada situasi sulit.
Nah, itulah beberapa hal yang dibutuhkan dalam cara penggunaan snatch block dengan tepat dan pastikan Anda memilih snatch di Megajaya.co.id! Tersedia produk snatch block merk powertec yang disesuaikan dengan kebutuhan Anda. Cek produknya disini!