Penting Anda Ketahui! Fungsi Webbing Sling Belt dan Cara Menghitung Kekuatan Webbing Sling
Dalam dunia industri, salah satu kegiatan yang umum dilakukan adalah mengangkat dan memindahkan barang dari satu tempat ke tempat lain. Berat barang yang dipindahkan tersebut sangat bervariasi mulai dari yang paling ringan hingga super berat. Untuk membantu proses pengangkatan tersebut, ada berbagai alat bantu yang dapat dipergunakan salah satunya adalah Webbing Sling belt.
WEBBING SLING
Webbing Sling sering juga disebut dengan sling belt atau Webbing Sling belt adalah alat bantu berupa anyaman atau tenunan yang terbuat dari nilon, polyester, atau polypropylene dan dibuat berbentuk datar atau pipih maupun bentuk tabung dengan ukuran yang berbeda-beda sesuai dengan daya angkat.
Penerapan dan Fungsi Webbing Sling Belt
Fungsi Webbing Sling yang utama adalah untuk mengangkat benda atau bahan yang berukuran besar dengan bobot yang berat. Dalam beberapa situasi, Webbing Sling belt digunakan sebagai pengganti dari kawat sling atau wire rope sling.  Berdasarkan fungsi Webbing Sling belt tersebut, alat bantu ini dapat dipergunakan dalam berbagai jenis industri misalnya industri konstruksi, industri perkapalan, industri kargo, dan berbagai jenis industri lainnya.
Selain penggunaan dalam bidang industri, fungsi Webbing Sling  belt juga dapat diaplikasikan dalam berbagai aspek lain dalam kehidupan manusia misalnya:
Sabuk pengaman pada berbagai alat transportasi seperti mobil dan pesawat terbang
Fungsi Webbing Sling yang lain adalah dipergunakan sebagai bagian dari parasut
Fungsi Webbing Sling belt lainnya adalah sebagai lashing kargo dan lashing kayu. Untuk fungsi Webbing Sling yang satu ini, penggunaannya digabungkan dengan alat bantu lain seperti ratchet strap.
Jenis Webbing Sling Belt Berdasarkan Bahan Pembuatnya
Secara umum, ada 2 jenis bahan yang dipergunakan sebagai bahan pembuatan Webbing Sling belt yang dipergunakan dalam dunia industri yaitu:
Nilon memiliki berbagai kelebihan yang membuatnya dipilih sebagai salah satu bahan utama pembuatan Webbing Sling belt.  Nilon memiliki karakteristik yang cukup elastis dan kuat.  Selain itu, Nilon memiliki daya tahan yang  lebih kuat terhadap paparan sinar matahari secara langsung. Tingkat kekuatan Webbing Sling belt dari bahan nilon tidak akan berkurang lebih dari 30% (breaking load value) walaupun dipergunakan dibawah sinar matahari dalam waktu lama. Semua kelebihan tersebut menjadi faktor pendukung maksimalnya fungsi Webbing Sling belt.
Polyester atau serat sintesis merupakan jenis bahan yang juga umum dipergunakan sebagai bahan pembuatan webbing. Webbing Sling belt dari polyester memiliki berbagai kelebihan yang membuatnya populer dalam dunia industri. Webbing Sling belt polyester lebih lembut dan fleksibel dibandingkan nilon sehingga lebih cocok untuk mengangkat benda-benda yang delicate atau membutuhkan penanganan ekstra. Bahan polyester juga tidak menyerap air sehingga cocok dipergunakan dalam industri yang bersentuhan dengan air seperti dalam industri perkapalan.
Di sisi lain, polyester terbilang rentan terhadap bahan kimia ether dan alkali. Untuk itu, para pengguna harus jeli dalam memilih produk yang benar-benar sesuai dengan kebutuhan industri mereka untuk mendapatkan hasil terbaik.
Khusus untuk Webbing Sling Powertec sendiri hanya tersedia dari bahan polyester saja.  Dengan ragam pilihan daya angkat atau kapasitas, Anda akan dapat menemukan produk Webbing Sling belt dari Powertec yang tepat untuk kebutuhan.
WARNA WEBBING SLING
Produk webbing seperti Webbing Sling Powertec memiliki varian ragam warna. Apa dan mengapa ada begitu banyak varian warna sling belt? Alasan utamanya adalah faktor keselamatan. Fungsi Webbing Sling berdasarkan kapasitas atau daya angkat dapat dengan mudah dibedakan berdasarkan warnya. Operator yang menggunakan Webbing Sling Powertec tidak perlu melihat spesifikasi  yang tercetak pada webbing untuk mengetahui daya angkatnya. Cukup dengan melihat warna webbing itu sendiri. Dengan begini, operator dapat memilih Webbing Sling Powertec yang tepat dan sesuai dengan beban yang akan diangkat dengan mudah dan cepat.
Kode Warna Webbing Sling Belt sebagai Bentuk Penanda Fungsi Alat
Selain untuk alasan kepraktisan dalam mengenali fungsi webbing sling, ada alasan lain dari penggunaan warna-warna tersebut. Warna webbing slit Powertec merupakan bagian dari pemenuhan peraturan dan undang-undang yang mengatur perihal penggunaan alat bantu dalam dunia industri. Peraturan yang sering menjadi rujukan untuk hal ini adalah Lifting Operations and Lifting Equipment Regulations 1998 (LOLER).
Peraturan LOLER ini dengan jelas mewajibkan semua peralatan dan alat bantu angkat untuk dibuat sesuai dengan fungsinya, cocok dengan tugas masing-masing, dan memiliki penanda khusus.
Peraturan ini memang tidak menyatakan bahwa Webbing Sling belt harus diberi warna yang berbeda, namun secara tidak langsung sistem kode warna ini telah diterima sebagai bentuk identitas untuk membedakan fungsi Webbing Sling dalam dunia industri. Hal yang paling penting adalah, sistem kode warna pada Webbing Sling Powertec sesuai dengan aturan yang dinyatakan dalam LOLER.
Arti Kode Warna Webbing Sling
Produk Webbing Sling Powertec tersedia dalam ragam warna sesuai dengan peraturan yang berlaku. Kode warna yang dipergunakan merupakan kode yang diterima dan disepakati dunia industri secara universal di seluruh dunia. Setiap warna menunjukkan kapasitas dan fungsi Webbing Sling Powertec yang berbeda.
Berikut ini adalah sistem kode warna yang dipergunakan oleh Webbing Sling Powertec beserta penjelasan kapasitas untuk masing-masing warna:
Daya angkat maksimal atau kapasitas Webbing Sling belt warna ungu adalah sebesar 1 ton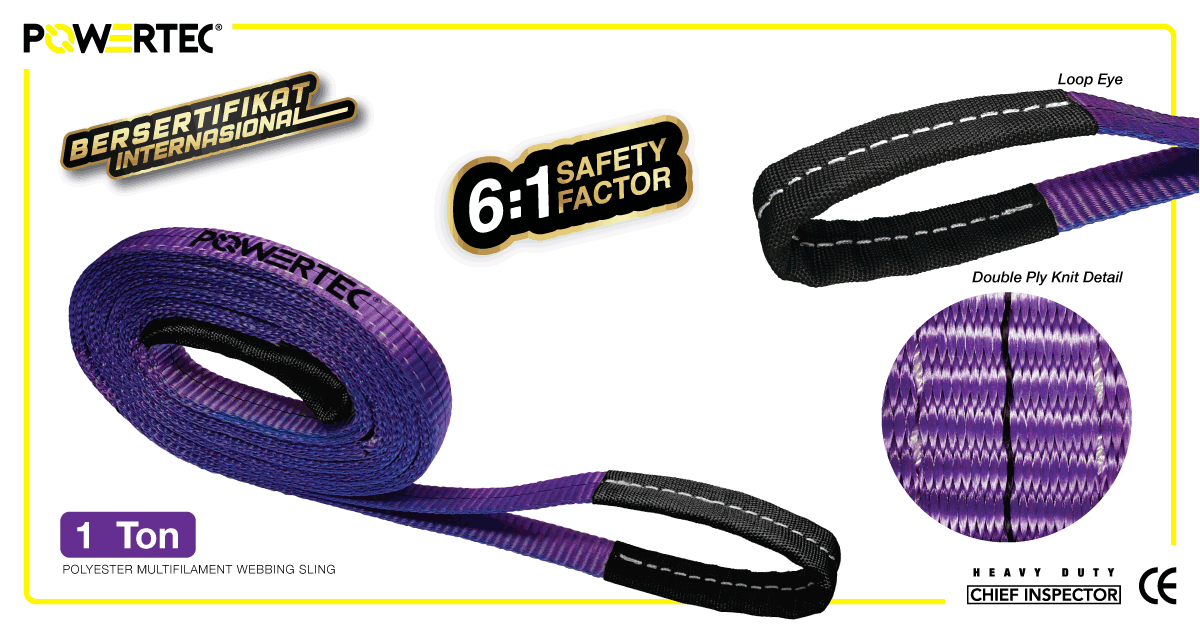 Kapasitas Webbing Sling warna hijau adalah sebesar 2 ton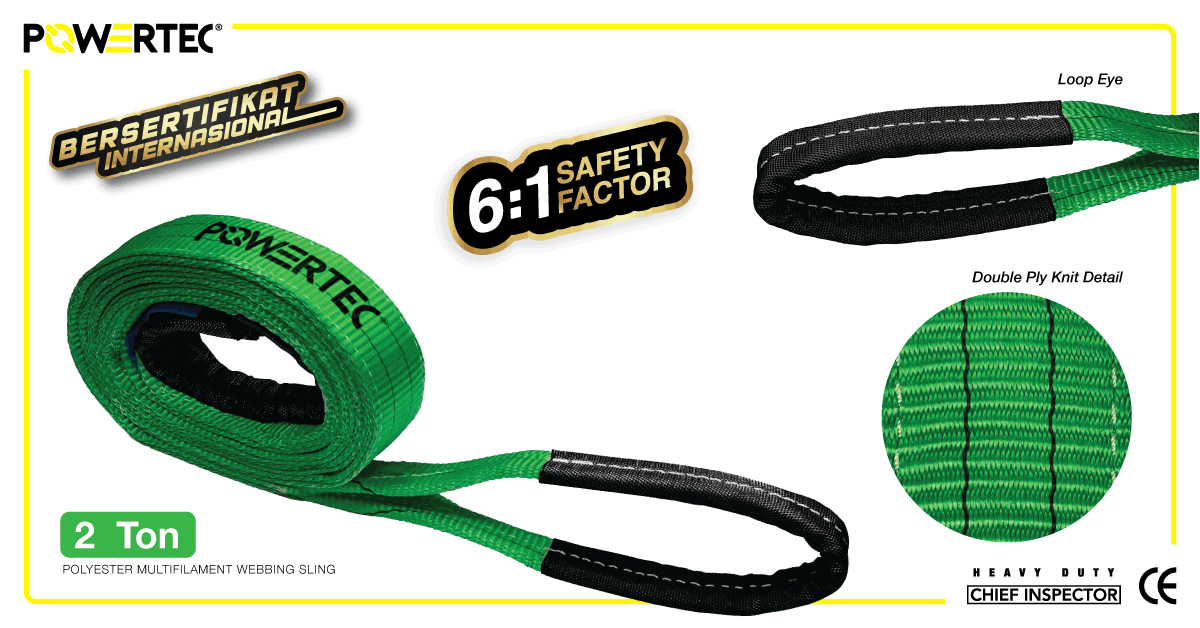 Kapasitas Webbing Sling warna kuning adalah sebesar 3 ton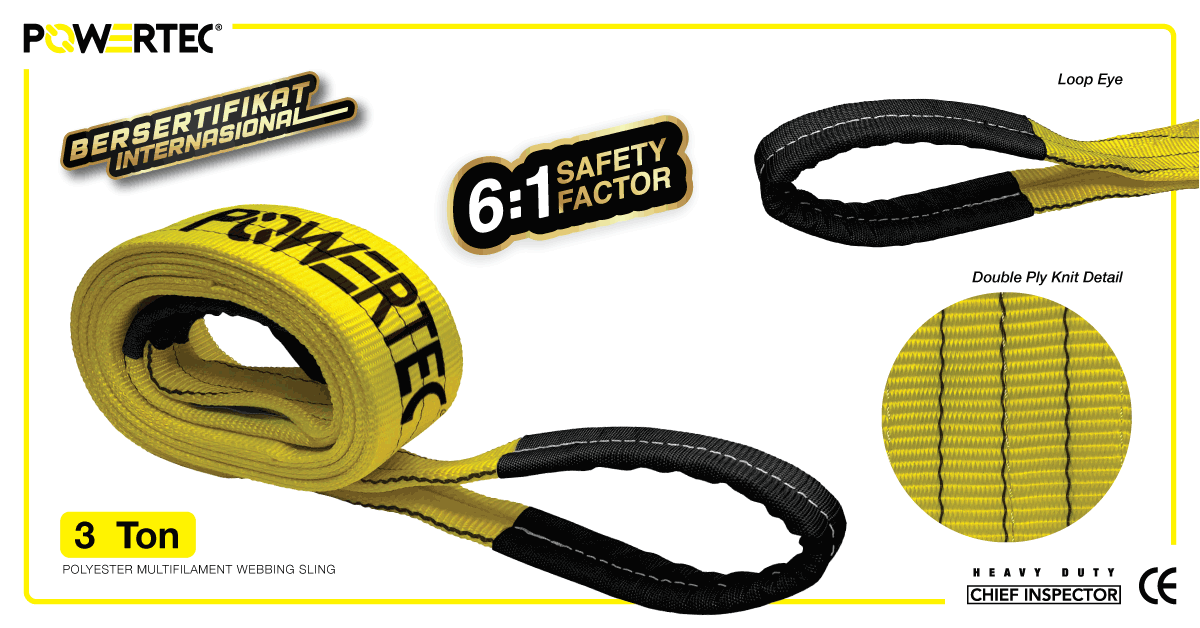 Kapasitas Webbing Sling warna abu-abu adalah sebesar 4 ton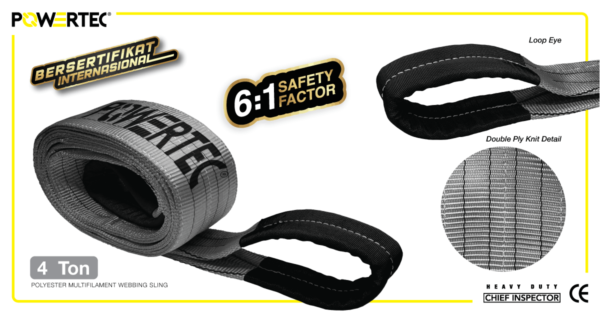 Kapasitas Webbing Sling warna merah adalah sebesar 5 ton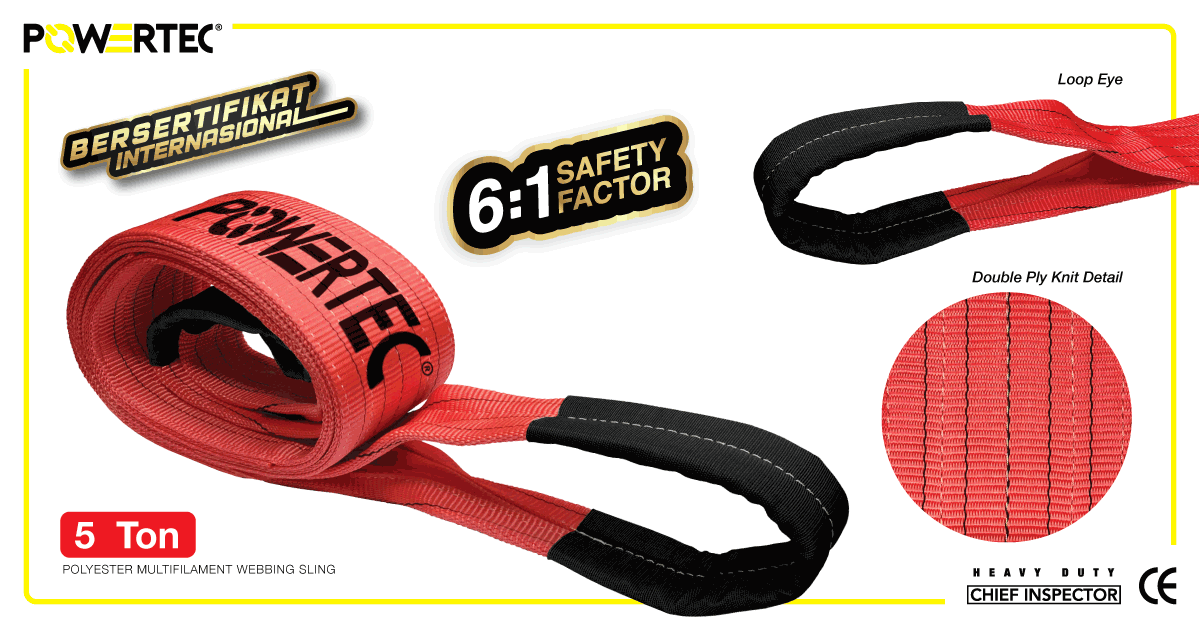 Kapasitas Webbing Sling warna coklat adalah sebesar 6 ton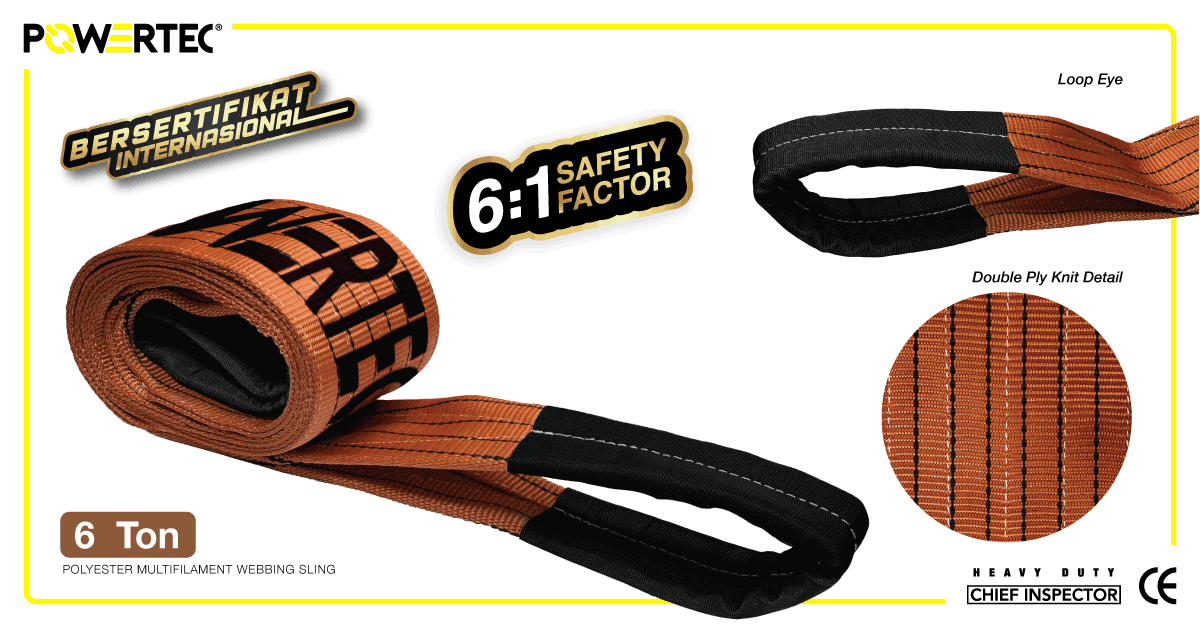 Kapasitas Webbing Sling warna biru adalah sebesar 8 ton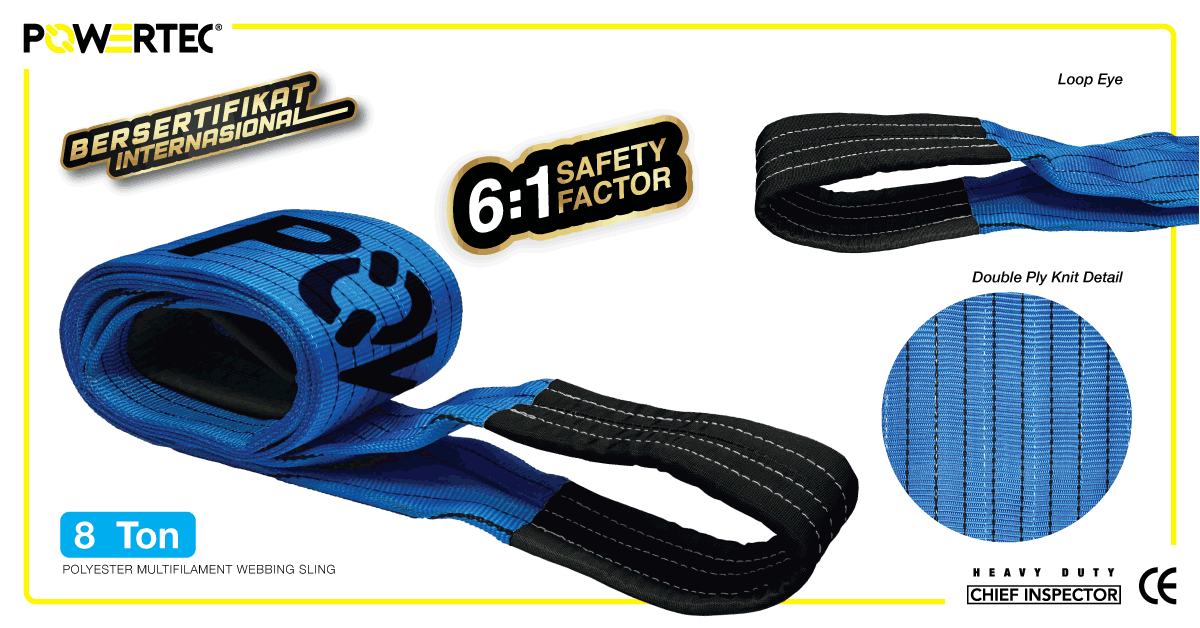 Kapasitas Webbing Sling warna orange adalah sebesar 10 ton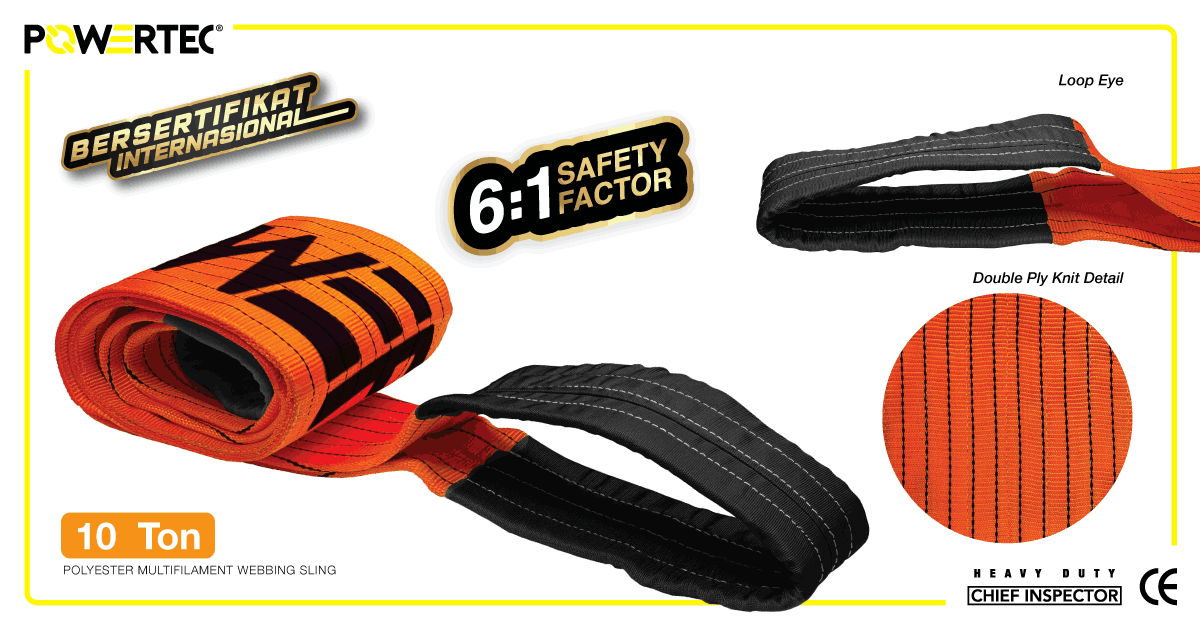 Daftar kode sistem warna Webbing Sling belt tersebut merupakan standar yang berlaku secara universal dalam dunia industri. Namun, beberapa perusahaan atau manufaktur yang memproduksi Webbing Sling belt menggunakan varian yang sedikit berbeda. Khusus untuk Webbing Sling Powertec, varian ini terdapat pada kapasitas berat yang dapat diangkat. Rinciannya adalah sebagai berikut:
Kode sistem warna Webbing Sling Powertec dengan kapasitas 1 hingga 10 ton sama dengan daftar universal tersebut
Webbing Sling Powertec dengan daya angkat atau kapasitas 12 ton ditandai dengan warna orange
Webbing Sling Powertec dengan daya angkat atau kapasitas 16 ton ditandai dengan warna biru muda
Webbing Sling Powertec dengan daya angkat atau kapasitas 20 dan 24 ton ditandai dengan warna orange muda
Dengan adanya sistem kode warna seperti ini, proses penggunaan dan pemasangan Webbing Sling Powertec akan menjadi lebih praktis. Setiap operator yang mengoperasikan peralatan angkat berat hanya perlu menghafalkan fungsi Webbing Sling dan kapasitas untuk setiap warna yang berbeda. Dengan ini, beban yang diangkat akan sesuai dengan kapasitas  untuk menjaga keamanan semua pihak yang terlibat dalam proses tersebut.
BACA JUGA: Tips & Trick Untuk Menggunakan Webbing Sling Yang Aman
Cara Menghitung Kekuatan Webbing Sling
Sebelum mengetahui cara menghitung kekuatan Webbing Sling, ada beberapa hal yang perlu diketahui terlebih dahulu. Dalam spesifikasi sebuah produk Webbing Sling belt, salah satu istilah yang sering muncul adalah kapasitas atau daya angkat. Kapasitas ini sering juga disebut sebagai working load limit (WLL), yaitu daya angkat dari peralatan tersebut. Sangat tidak disarankan untuk mengangkat berat yang melebihi kapasitas atau WLL karena dapat merusak webbing dan menyebabkan terjadinya kecelakaan.
Khusus untuk Webbing Sling, daya angkat atau kapasitas atau nilai WLL sudah tercantum pada masing-masing label produk. Apabila data ini tidak tercantumkan, produk tersebut harus segera dikembalikan ke pabrik untuk pengukuran dan pelabelan.
Untuk mengetahui cara menghitung kekuatan Webbing Sling, ada beberapa faktor yang menjadi bahan pertimbangan, yaitu;
Daya angkat atau kapasitas atau WWL.
Beberapa produsen masih mencantumkan nilai WWL sebagai SWL atau safety working load. Namun di negara-negara besar seperti Eropa dan Amerika, istilah SWL sudah tidak dipakai lagi dan diganti dengan WWL.
Angle factor atau sudut pengangkatan/ metode pengangkatan
Daya angkat atau kekuatan Webbing Sling akan berbeda tergantung dari sudut pengangkatan. Sudut pengangkatan akan mempengaruhi kekuatan webbing tersebut
Nilai dari angle factor ini sudah ditetapkan sebelumnya dengan rincian sebagai berikut:
Tegak lurus, nilai angle factor 1 (M = 1)
Binding (sering juga disebut choke, metode cekik, dan metode ikat), nilai angle factor 0,8 (M = 0,8).
Parallel, nilai angle factor 2 (M = 2)
450, nilai angle factor 1,8 (M = 1,8)
900, nilai angle factor 1,4 (M = 1,4)
1200, nilai angle factor 1 (M = 1)
Cara menghitung kekuatan Webbing Sling atau daya angkat webbing dapat menggunakan rumus:
Daya angkat maksimum = Kapasitas (WWL) x angle factor (M)
Beberapa contoh cara menghitung kekuatan Webbing Sling tersebut adalah:
Sebuah Webbing Sling Powertec dengan kapasitas 5 ton akan mengangkat sebuah benda dengan sudut angkat 90  Sudut angkat 900 memiliki nilai M=1,4.
Berdasarkan rumus diatas maka:
Daya angkat maksimum = 5 x 1,4 = 7 ton
Artinya, Webbing Sling Powertec tersebut, apabila dipergunakan dengan sudut angkat 900 mampu mengangkat benda dengan berat maksimal 7 ton, lebih berat dari kapasitasnya.
Sebuah Webbing Slingdengan kapasitas 20 ton akan mengangkat benda dengan metode binding atau metode choke (ikat). Nilai M untuk metode pengangkatan ini adalah 0,8, maka:
Daya angkat maksimum = 20 x 0,8 = 16 ton
Artinya, webbing tersebut, apabila dipergunakan untuk mengangkat benda dengan metode ikat (cekik)  hanya dapat mengangkat maksimal 16 ton saja, kurang dari kapasitasnya.
Setiap produk Webbing Sling harus memenuhi standar perhitungan tersebut. Untuk memastikan produk yang akan dipergunakan telah sesuai dengan standar tersebut, pilih produk yang telah mendapat sertifikasi dari badan yang memiliki kewenangan dalam hal tersebut.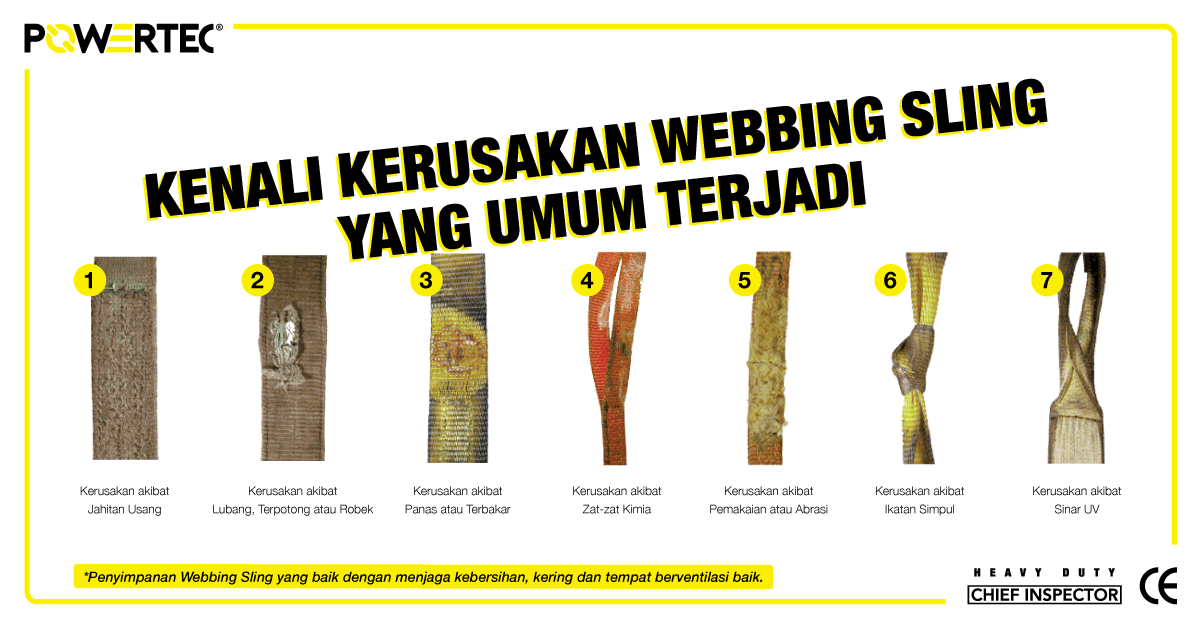 Khusus untuk produk Webbing Sling Powertec, dapat dipastikan setiap produknya telah memenuhi standar pemenuhan fungsi Webbing Sling.  Produk Powertec dibuat dengan memenuhi syarat dalam ketentuan B.S.3481. Selain itu, produk tersebut juga telah memenuhi standar sertifikasi Quality Management System Approved yaitu ISO9002:1994. Setiap produk mendapatkan garansi dari pihak perusahaan terhadap segala bentuk kecacatan dalam material atau performa kerja. Hal ini merupakan faktor utama yang menjamin maksimalnya fungsi Webbing Sling tersebut.
Dengan keberadaan sertifikasi dan jaminan tersebut, dapat dipastikan bahwa produk Webbing Sling Powertec telah memenuhi standar kualitas untuk memastikan performa dan daya tahan. Dengan pemilihan produk berkualitas seperti ini, proses kerja akan berjalan lebih lancar, efektif, efisien, dan juga aman.
BACA JUGA: Cara Inspeksi Webbing Sling dan Cara Menggunakannya Dengan Benar
KAPASITAS WEBBING SLING
Fungsi Webbing Sling yang utama adalah untuk mengangkat benda berat. Dengan sistem kode warna webbing, sangatlah mudah untuk memilih webbing yang tepat dan sesuai dengan kapasitasnya.
Daya angkat atau kapasitas Webbing Sling itu sendiri sebenarnya dipengaruhi oleh banyak faktor, yaitu:
Web tensile strength adalah tegangan atau tarikan maksimum yang dapat ditahan oleh sebuah webbing ketika direnggangkan atau ditarik sebelum webbing tersebut rusak atau putus.
Faktor ini merupakan faktor dasar dari pengukuran kapasitas Webbing Sling Powertec. Setiap material webbing memiliki nominal strength yang telah ditetapkan sebelumnya. Setiap perusahaan pembuat webbing wajib memastikan bahwa produk mereka memenuhi atau melebihi nilai nominal strength ini.
Faktor pembuatan Webbing Sling Powertec tentu saja akan mempengaruhi kapasitas dari Webbing Sling belt itu sendiri. Beberapa contoh faktor pembuatan yang dimaksud disini berupa jahitan atau perubahan yang dilakukan pada material tersebut. Sebagai contoh, jahitan yang dibutuhkan untuk three-ply sling  tentu saja lebih banyak dibandingkan dengan jahitan pada two-ply slings. Hal ini akan mempengaruhi kapasitas maksimal dari Webbing Sling belt nantinya.
Tingkat kekuatan hardware
Faktor yang satu ini menjadi faktor yang perlu dipertimbangkan hanya saat nominal strength dari hardware tersebut berada lebih rendah atau dibawah nominal strength sling.
Setelah menyesuaikan nominal strength untuk Webbing Sling belt berdasarkan faktor pembuatan,  langkah selanjutnya adalah menentukan kapasitas Webbing Sling dengan menggunakan faktor desain 5 to 1.
Perbandingan angka ini juga sering disebut dengan safety factor. Safety factor menunjukkan berapa kali lipat dari SWL (kapasitas) Webbing Sling tersebut akan putus. Sebagai contoh, sebuah webbing dengan kapasitas 3 ton dengan safety factor 5:1 , menunjukkan bahwa webbing tersebut mampu menahan beban maksimal 5×3= 15 ton sebelum putus. Semakin besar nilai safety factor berarti semakin aman dan maksimal fungsi Webbing Sling belt tersebut.
Safety factor yang umum dipergunakan dalam aplikasi lifting adalah 5:1, 6:1, 7:1, dan 8:1. Untuk Webbing Sling Powertec sendiri tersedia safety factor  6:1 dan untuk Webbing Sling Toyo 8:1.
Desain faktor ini ditetapkan oleh American National Standards Institute (ANSI) yaitu standar ANSI B30.9 Pasal 9-5.2. Lembaga ANSI dan OSHA memang mewajibkan setiap perusahaan manufaktur Webbing Sling untuk membuat laporan rating setiap produknya dengan menyertakan data hasil tes.
Selain mempertimbangkan semua faktor diatas, produsen atau manufaktur dari Webbing Sling akan melakukan tes terhadap produk-produknya. Tes ini dilakukan untuk melihat apakah daya angkat atau kapasitas dari produk Webbing Sling tersebut telah sesuai dengan standar ataukah tidak.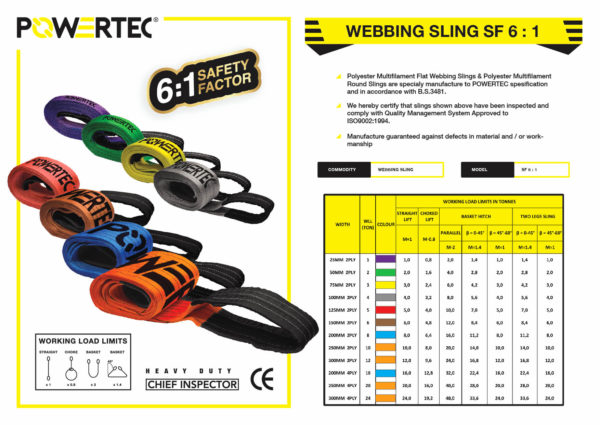 Produk Webbing Sling Powertec sendiri memiliki kapasitas yang sangat beragam mulai dari 1 ton hingga 24 ton. Produk-produk tersebut memiliki spesifikasi sebagai berikut:
Dalam pemilihan Webbing Sling belt, pastikan untuk menggunakan produk yang telah memenuhi standar untuk menjamin kualitas produk dan kelancaran serta efektifitas kerja nantinya. Megajaya sebagai salah satu penyedia ragam produk alat bantu angkat dalam dunia industri menyediakan produk Webbing Sling belt Powertec untuk memenuhi semua kebutuhan industri di tanah air dengan mudah dan nyaman.
Ketahui Kriteria Webbing Sling yang Kuat, Aman, dan Terpercaya selengkapnya pada video berikut:
Baca Juga Artikel Menarik Lainnya: