Mungkin Anda sudah sering mendengar Mega Jaya sebagai distributor chain block berpengalaman, atau mungkin Anda pernah memiliki pengalaman melakukan transaksi di Mega Jaya? Sebagai distributor, Mega Jaya menyediakan beragam chain block dengan bagian-bagian chain block berkualitas. Lalu, hal apa saja yang dijadikan penilaian dari para pembeli merk chain block terbaik di website Mega Jaya? Yuk kita simak ulasannya berikut ini:
"Pelayanan sangat ramah! Chain Block yang kami beli dipacking dengan baik! Terima kasih Mega Jaya", ulas pak Nandoko dari PT Inter Cahya. Dari ulasan ini dapat disimpulkan bahwa selain kualitas produk yang terpercaya, kualitas pengemasan produk juga sangat diperhatikan oleh pembeli sehingga pembeli tidak khawatir produk akan rusak saat pengiriman. 
"Mega Jaya selalu memberikan harga yang kompetitif dan jaminan kualitas produk. Sukses Selalu Mega Jaya", ulas pak Yusril dari PT Atamora Tehnik Makmur. Ulasan pak Yusril menunjukkan bahwa harga yang kompetitif dapat menjadi pertimbangan penting dalam membeli chain block yang berkualitas.
"Chain block toyo 5 ton x 10 meter sudah saya terima dengan baik. Good Packing and Good Service. Terima kasih Mega Jaya.", ulas pak Agung Triharyadi. Ulasan pak Agung menunjukkan bahwa pelayanan pada saat pembelian produk, merupakan faktor penting  melakukan pembelian alat industri di suatu website.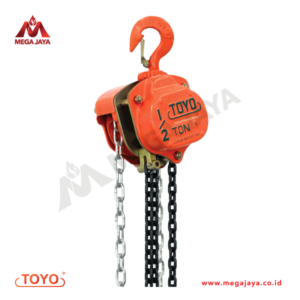 Chain block dikategorikan sebagai katrol tetap loh, hal ini karena chain block hanya dipasang di satu tempat dan tidak berpindah-pindah tempat ya. Chain block dipilih sebagai alat bantu industri yang efisien karena terdiri dari bagian-bagian chain block yang sangat kuat dan aman. Bagian-bagian chain block merk memiliki beragam keunggulan diantaranya:
1. Memiliki fitur
Chain Guide Mechanism
Chain Guide Mechanism berfungsi menjaga rantai bergerak dengan halus dan tidak mudah keluar jalur. 
2. Double Pawl Spring Mechanism
Double Pawl Spring Mechanism yaitu menjaga fungsi pengereman jika salah satu pawl mengalami kerusakan. Fungsi dari pawl pada chain block yaitu sebagai komponen yang mencegah pergerakan di satu arah atau bisa disebut sebagai rem agar chain block dapat melakukan pengereman dan penahan beban. 
3. High Standard G80 Load Chain
Juga terdapat High Standard G80 Load Chain yaitu chain block telah dilengkapi dengan rantai baja berkualitas tinggi dan tahan lama sehingga kuat menahan beban dan dapat digunakan dalam waktu yang panjang. 
4. Sealead Roller Bearing
Terdapat fitur Sealead Roller Bearing yang berfungsi membuat proses mengangkat menjadi lebih ringan sehingga pengangkatan akan semakin mudah dilakukan.
5. All Parts Made of High Quality Steel
Tentunya chain block terbuat dari material baja berkualitas yang telah teruji, produk lebih kuat dan tahan terhadap cuaca ekstrim sehingga tidak mudah berkarat yang menimbulkan pengeroposan pada bagian-bagian chain block.
Lalu, bagaimana memilih komponen Chain Block yang berkualitas?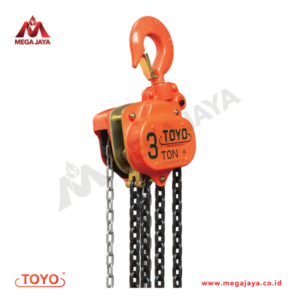 Lalu, bagaimana ya memilih chain block yang berkualitas? Apakah Mega Jaya menyediakan merk chain block terbaik dan berkualitas?  Yuk cari tahu apa saja kriteria yang bagus untuk komponen chain block!
1. Upper Hook and Lower 
Komponen chain block memiliki dua buah hook, yaitu Upper and Lower Hooks. Upper Hook berfungsi untuk menggantung chain block di tempat tertentu sesuai kebutuhan pengguna. Upper hook dibuat dengan special heat treated hook yang menjamin bagian-bagian chain block tidak akan cepat rusak jika digantungi beban yang berat. Sedangkan Lower Hook berfungsi sebagai tempat untuk menggantung atau menarik beban. Kedua hook komponen chain block dilengkapi dengan latch yang dapat mengunci beban dan ujung runcing agar tidak mudah lepas. Jadi beban yang dikaitkan pada hook akan aman ya pastinya.
2. Roda Gigi Tahan Karat
Komponen chain block juga dilengkapi dengan roda gigi yang terbuat dari campuran logam tahan karat, hal ini tentunya akan menambah kekuatan chain block.
3. Pitch Length
Bagian badan pada komponen chain block memiliki pitch length yang disesuaikan agar rantai leluasa bergerak ketika pengguna menarik dan mengulur rantai. 
4. Pin Type Chain Stop
Pada bagian inti komponen chain block juga terdapat pin type chain stop yang memungkinkan pengguna mengatur load chain saat berhenti ditarik. 
5. High Strength G80 Alloy Steel Load Chain
Lalu pada bagian-bagian chain block juga terdapat load chain sebagai komponen chain block yang berfungsi sebagai penarik beban. Load chain sendiri terbuat dari logam campuran baja tipe G80 loh, logam ini mempunyai kekuatan yang tinggi untuk menarik beban. Komponen chain block juga dilengkapi dengan load chain guide mechanism yang memungkinkan pengguna dapat menarik load chain tanpa khawatir akan macet.
6. Double Pawl Spring Mechanism
Selanjutnya, pelaku industri pastilah sangat bergantung dengan komponen chain block terpenting yang satu ini, yap betul, pawl atau rem. Chain block dengan komponen chain block double pawl merupakan chain block terbaik, karena dapat membuat pekerjaan lebih aman jika satu rem yang terdapat pada komponen chain block tidak bekerja secara maksimal. Jadi tidak akan khawatir ya saat pengguna menggunakan chain block untuk menarik dan memindahkan barang. 
Penjelasan mengenai keunggulan bagian-bagian chain block yang lebih lengkap dapat ditemukan di link ini ya Cari Tahu Jenis dan Fungsi Chain Block Berdasarkan Tonasenya. 
Nah, sudah tahu kan bahwa chain block merupakan alat angkat yang sangat sesuai untuk beban dengan volume dan massa yang besar. Semua keunggulan bagian-bagian chain block yang sudah disebutkan, merupakan bagian-bagian chain block merk Toyo. Toyo merupakan merk chain block terbaik yang memiliki beragam chain block dengan kapasitas angkat beban, mulai dari 0,5 ton hingga 50 ton. Selain itu merk chain block terbaik Toyo juga memiliki varian manual dan elektrik juga loh. Lengkap sekali ya.
Mega Jaya sebagai distributor resmi merk chain block terbaik memiliki chain block merk Toyo loh. Toyo yang merupakan merk alat angkut industri, menyediakan beragam alat industri berat seperti manufaktur, konstruksi, pertambangan hingga transportasi. Beragam keunggulan yang dimiliki chain block ini menjadikan merk Toyo selalu dipilih sebagai merk chain block terbaik andalan para pelaku industri di berbagai bidang. 
Keunggulan merk chain block terbaik Toyo terletak pada kualitas bagian-bagian chain block. Merk Toyo menerapkan standar yang tinggi dalam hal pemilihan material, hingga proses perakitan. Semua proses dilakukan dengan penuh perhitungan agar sesuai dengan kebutuhan di setiap industri. Setiap produk merk Toyo juga selalu diuji, hal ini membuat produk-produk merk Toyo memiliki daya tahan yang tinggi dan masa penggunaan yang panjang. Jadi yang pasti awet ya. Merk Toyo juga memberikan garansi servis resmi hingga 5 tahun. Jadi tidak akan khawatir jika menggunakan alat angkat merk Toyo ya.
Lalu jika ingin membeli chain block yang sesuai dengan kebutuhan, setiap industri setidaknya sudah tahu material apa saja yang ingin diangkat, dari jenis, volume, masa, juga ketinggian pemindahan barang. Anda bisa berkonsultasi dengan customer service Mega Jaya untuk menentukan merk chain block terbaik Toyo tipe mana yang akan dibeli. Selain dapat mengetahui jenis chain block, Mega Jaya juga menawarkan harga yang sangat terjangkau loh, jadi pastinya akan ramah di kantong Anda. 
Yuk, langsung saja hubungi megajaya.co.id dan dapatkan merk chain block terbaik dengan bahan-bahan chain block berkualitas untuk mendukung pekerjaan industri Anda!