Simak! Ketahui Perbedaan Setiap Grade Pada Rantai Untuk Alat Lifting
Rantai merupakan salah satu alat yang diproduksi khusus untuk aplikasi pengangkatan dan penarikan. Rantai dipanaskan dengan suhu tertentu lalu dibentuk secara oval untuk meningkatkan kekuatan tarik dan ketahanan benturan serta penyerapan goncangan. Rantai memiliki nilai atau grades dalam setiap pembuatannya. Simak selengkapnya di artikel ini untuk dapatkan informasi lengkap mengenai jenis grade rantai.
Kenali Perbedaan Antara Nilai Rantai
Rantai yang dilas biasanya hadir dengan berbagai kekuatan berbeda, yang biasa disebut dengan istilah 'grade' di pasaran. Grade biasanya ditunjukkan dalam bentuk angka, mewakili kekuatan atau nilai tegangan rata-rata pada rantai. Rantai sendiri terdiri atas rantai karbon baja dan rantai besi. Semakin tinggi nilai rantai, maka :
Bahan rantai umumnya lebih tahan abrasi dan lebih keras.
Rasio kekuatan terhadap berat beban meningkat.
Work Load Limit atau Batas beban kerja (WLL) meningkat.
Angka yang menunjukkan grade rantai merepresentasikan solusi persamaan matematika. Persamaan tersebut mengambil gaya tarik rantai di ukur dalam satuan Newton, kemudian membaginya ke dalam luas penampang dari ukuran tautan pada rantai dalam satuan milimeter.
Adapun persamaan tersebut jika disederhanakan menjadi : Newton /mm2.
Berdasarkan persamaan tersebut, Anda akan mendapatkan nomor sesuai dengan jenis grade rantai itu sendiri, baik berlaku pada rantai karbon baja maupun rantai besi. Dimana semakin tinggi  nomor gradenya, maka gaya tarik  yang dihasilkannya pun akan semakin tinggi dibandingkan ukuran mata rantai. Sehingga menghasilkn rasio kekuatan terhadap beban yang lebih tinggi.
Perbedaan terbesar antara grade rantai pada rantai karbon baja adalah grade 30, 43, dan 70 yang tidak direkomendasikan untuk operasi pengangkatan overhead. Sedangkan pada rantai baja paduan, grade 80, 100, dan 120, disarankan untuk digunakan dalam rakitan sling dan aplikasi pengangkatan overhead crane.
Apa Yang Membuat Grade Rantai Tersebut Menjadi Berbeda?
National Association of Chain Manufacturers  (NACM) & American Society for Test Materials (ASTM) mengklasifikasikan rantai dalam berbagai tingkatan. Adapun untuk memahami bahwa setiap grade rantai karbon baja dan rantai besi paduan berbeda, berikut akan dijelaskan melalui tabel :
| | | | |
| --- | --- | --- | --- |
| ASTM & NACM Grade | Spesifikasi ASTM | Nama | Jenis Penggunaan |
| Grade 30 | A413 | Proof Coil | Tujuan umum, rantai karbon rendah untuk aplikasi industri dan pertanian termasuk untuk pagar keamanan, dan beban. Tidak digunakan untuk operasi pengangkatan overhead. |
| Grade 43 | A413 | High Test | Rantai karbon grade 43 diproduksi untuk memenuhi spesifikasi ASTM & NACM. Penggunaan umum termasuk pengamanan peti kemas, sebagai penarik, penerbangan, dan aplikasi industri kelautan. Grade 43 tersedia dalam berbagai jenis finishing. Dan tidak dianjurkan untuk pengangkatan overhead. |
| Grade 70 | A413 | Transport | Rantai karbon baja yang diberi perlakuan panas dengan kekuatan lebih tinggi yang biasanya digunakan oleh pengemudi truk, penebang kayu, dan yang berkaitan dengan pekerjaan di jalan raya. Kegunaannya untuk mengamankan muatan, untuk pengikatan dan untuk penarikan. Rantai karbon grade 70 memiliki kekuatan kira-kira 20% lebih besar dari grade 43. Namun grade ini masih belum bisa digunakan untuk operasi pengangkatan overhead. |
| Grade 80 | A391 | Alloy | Rantai besi dan baja paduan memiliki kekuatan lebih tinggi, terutama digunakan sebagai komponen sling untuk pengangkatan overhead, namun juga bisa dipakai untuk aktivitas tali temali dan pengikat, dimana bobotnya lebih ringan, dengan kekuatan rantai lebih tinggi. Grade rantai besi dan baja paduan ini direkomendasikan untuk pengangkatan overhead oleh NACM, OSHA dan ASME. |
| Grade 100 | A973 | Alloy | Dengan tingkat kekuatan sekitar 25% lebih tinggi dari kekuatan grade 80, rantai grade 100 digunakan terutama sebagai komponen sling untuk pengangkatan overhead. Rantai grade 100 bsia digunakan untuk semua aplikasi yang sama dengan grade 30 sampai grade 80. Direkomendasikan untuk operasi pengangkatan overhead oleh NACM, ASME, dan OSHA. |
Itulah beberapa perbedaan terkait grade rantai karbon baja dan rantai besi paduan yang harus Anda ketahui, sebelum Anda memilih rantai untuk aplikasi pekerjaan Anda.
Baca Juga : Rantai Stainless, Rantai Besi, Rantai Baja. Manakah yang lebih baik?
Perbedaan Antara Rantai Karbon dan Baja Paduan
Rantai besi industri biasanya digunakan untuk berbagai macam aplikasi di berbagai industri. Selain memiliki karakteristik yang sangat kuat, tetapi rantai juga bersifat fleksibel dan tahan lama. Untuk membedakan tingkat kekuatan pada rantai besi, biasanya dapat dilihat dari perbedaan grade rantai itu sendiri. Jenis grade ini mengkategorikan jenis rantai apa yang paling baik digunakan pada aplikasi tertentu.
Berikut ini ada 5 grade rantai utama, yaitu grade 30, 43, dan 70 untuk rantai karbon dan grade 100 sampai 120 untuk rantai baja paduan. Ini dia perbedaannya :
Rantai Karbon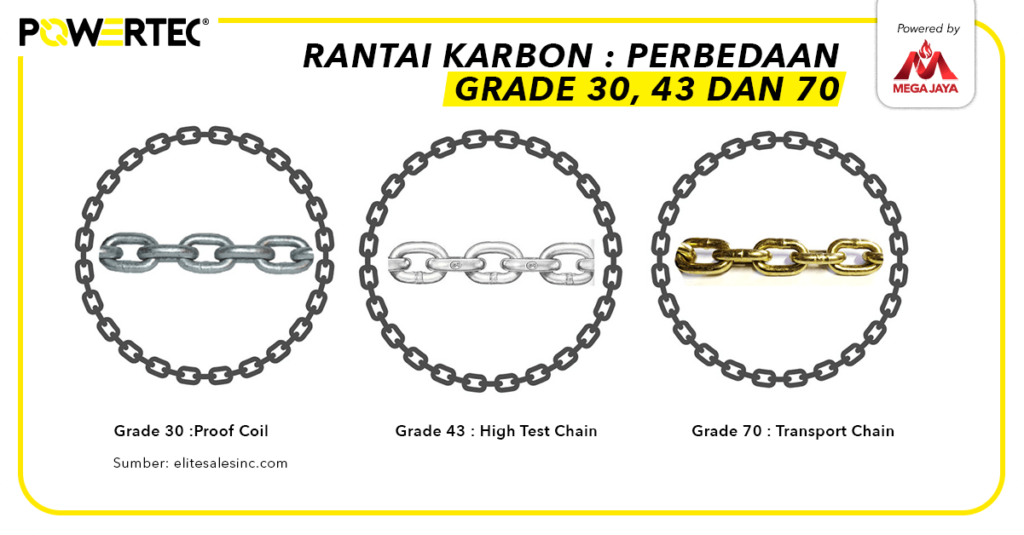 Rantai karbon merupakan rantai yang paling sering diaplikasikan untuk mengamankan container dan pengikatan. Namun tidak direkomendasikan digunakan untuk operasi pengangkatan overhead oleh ASME (American Society of Mechanical Engineers) dan OSHA (Occupational Safety and Healtf Administration).
Satu-satunya aplikasi yang mempertimbangkan penggunaan rantai karbon untuk pengangkatan overhead yaitu di lingkungan kaustik atau asam keras. Lingkungan kaustik yang membutuhkan pemakaian rantai termasuk aplikasi dan operasi galvanisasi. Untuk mengetahui perbedaan tiap-tiap grade pada rantai karbon, berikut ulasannya :
Merupakan tingkatan rantai terendah yang ada di pasaran, biasanya disebut juga sebagai 'proof coil'. Grade 30 merupakan sejenis rantai yang sering diaplikasikan untuk aktivitas penebangan, peralatan taman bermain atau pengikatan truk.
Penggunaan rantai karbon sendiri biasanya dipakai untuk aplikasi bundling yang tidak mengizinkaan penggunaan rantai paduan. Pada kenyataannya, semakin rendah komposisi karbon pada rantai untuk bundling, maka akan semakin baik. Oleh sebab itu, kita sering melihat rantai karbon grade 30 yang dijadikan sebagai bagian rakitan sling untuk aplikasi bundling.
Rasio kekuatan terhadap berat beban pada grade 43 sendiri lebih tinggi daripada grade 30. Oleh sebab itu, kedua grade tersebut sering dipakai bergantian. Biasanya rantai karbon dengan grade 43 ini dinamakan 'High test chain' dan biasanya sering diaplikasikan untuk tarikan, aplikasi utilitas umum, dan mengamankan beban.
Pada rantai karbon, grade 70 termasuk grade tertinggi. Namun sama seperti pada grade 30 maupun 43, rantai dengan grade 70 juga tidak dianjurkan untuk operasi pengangkatan overhead. Berbeda dengan rantai 43 dan 30, rantai ini telah mendapatkan perlakuan panas. Hal inilah yang membuatnya tahan terhadap abrasi dan aus karena memiliki material yang lebih keras dengan tingkat rasio kekuatan terhadap berat lebih tinggi.
Yang membedakan jenis grade rantai 30, 43 dan 70 yaitu pada rantai grade 70 biasa disebut dengan istilah 'Transport Chain, yang paling umum digunakan dalam aplikasi pengikatan dan pemuatan truk maupun kargo. Sedangkan pada rantai grade 43 dan 30 juga bisa dipakai untuk pengamanan beban. Diantara ketiganya, rantai karbon dengan grade 70 menawarkan pilihan rantai yang lebih tahan lama dan kuat dengan rasio kekuatan terhadap beban jauh lebih tinggi.
Rantai Baja Paduan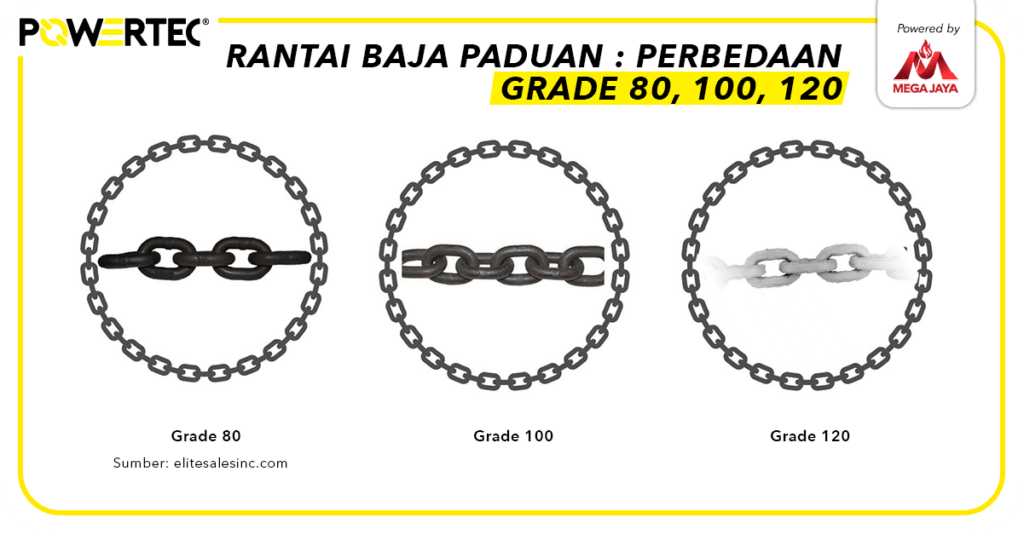 Berbeda dengan rantai karbon, seluruh rantai baja paduan bergradasi dianjurkan untuk penggunaan aplikasi pengangkatan overhead oleh ASME dan OSHA. Adapun artinya, rantai baja paduan juga bisa dipakai untuk membangun rakitan sling rantai yang digunakan pada pengangkatan overhead, selain untuk berbagai aplikasi pengamanan yang dapat dilakukan rantai karbon.
Rantai baja paduan direkomendasikan sebagai alat untuk membantu operasi pengangkatan overhead mengingat rasio kekuatan terhadap bebannya lebih tinggi. Sehingga menghasilkan produk yang bisa memberikan persentase perpanjangan jauh lebih tinggi, minimum sebesar 20% sebelum akhirnya terputus Ketika mengalami kelebihan beban.
Berikut penjelasan perbedaan grade 80, 100 dan 120 untuk rantai baja paduan :
Rantai baja paduan dengan grade 80 disarankan oleh OSHA untuk aplikasi pengangkatan overhead dan seringkali diaplikasikan dalam penggunaan rakitan sling. Dalam kebanyakan kasus, grade 100 maupun grade 80 bisa diaplikasikan untuk operasi pengangkatan. Tapi, ada situasi tertentu yang justru membuat penggunaan rantai dengan grade 80 lebih baik.
Rantai baja paduan dengan grade 100 ditempa pada temperatur lebih rendah dibandingkan rantai dengan grade 80. Hal tersebut tentu sangat penting bagi industri baja, yang mana rantai yang sudah ditempa pada temperatur lebih tinggi justru semakin disukai. Dikarenakan rantai tersebut lebih kecil kemungkinannya mengalami degradasi permanen pada suhu ekstrem di dalam pabrik.
Jika dibandingkan dengan rantai grade 80, grade 100 mempunyai rasio kekuatan terhadap beban atau berat lebih tinggi sampai 25%, tergantung dari pabrikannya. Selain itu, rantai dengan jenis   grade 100 mempunyai  material permukaan lebih keras, yang tentunya memberikan lebih banyak keuntungan terutama dari segi ketahanan abrasi.
Satu-satunya kondisi kenapa Anda harus memilih rantai dengan grade 100 ialah, Ketika aplikasi pekerjaan Anda berkaitan dengan rasio kekuatan terhadap berat pada sling pengangkat, sebab sing rantai dengan grade 100 memang sangat menguntungkan dalam hal ini.
Sementara itu, jika aplikasi Anda membutuhkan sling rantai yang diameternya lebih besar, dan tidak terlalu memperhatikan rasio kekuatan terhadap berat, maka grade 80 bisa menjadi pilihannya.
Rantai baja paduan dengan grade 120 adalah rantai dengan kinerja tinggi  yang ditandai oleh tautan berbentuk perseginya. Rantai grade 120 biasanya ditandai oleh warna hijau, biru atau warna cerah lainnya.
Selain itu, rantai dengan grade 120 mempunyai rasio kekuatan terhadap beban lebih tinggi dibandingkan rantai grade 100. Sebab mata rantai persegi yang digunakan untuk pembuatan rantai grade 120 ini menciptakan luas penampang lebih besar per mata rantainya.
Hanya saja, rantai tautan persegi lebih mahal untuk diproduksi, oleh sebab itu hasil produk akhirnya pun lebih mahal. Jadi wajar jika penggunaan rantai grade 120 untuk operasi pengangkatan overhead lebih jarang dibandingkan pada grade 100 dan 80.
Bagaimana Tingkat Grade Rantai Dapat Mempengaruhi Harga?
Pada umumnya, semakin tinggi tingkat grade rantai, maka akan semakin mahal pula proses produksi dan bahannya. Sehingga membuat rantai dengan grade lebih tinggi harganya lebih mahal.
Perbedaan harga yang signifikan dapat kita lihat pada rantai dengan grade 70 dan grade 43. Dimana rantai dengan grade 70 lebih mahal dari grade 43 karena pada rantai grade 70 sudah mendapatkan perlakuan panas, yang bisa menambah biaya dalam produksinya.
Selain itu, perbedaan harga signifikan juga terjadi pada rantai karbon dengan grade 70 dan rantai baja grade 80. Hal ini dikarenakan material rantai pada grade 80 ditingkatkan dari material karbon menjadi baja paduan. Inilah yang membuat harganya berubah signifikan.
Masalah Umum yang Terkait Dengan Penggunaan Rantai dan Tingkat Rantai?
Salah satu permasalahan umum terkait penggunaan rantai dan tingkat rantai ialah kurangnya informasi yang dimiliki rigger dan kurang terlatihnya rigger untuk menangani operasi melibatkan rantai. Inilah alasan pentingnya keselamatan personel dan peralatan Anda demi memastikan bahwa rigger sudah dilatih dengan benar, sesuai standar ASME dan OSHA.
Selain itu, ada 3 masalah umum yang sering dijumpai oleh para rigger terkait penggunaan rantai ialah  diantaranya :
Menggunakan hoist load chain untuk aplikasi pengangkatan
Penyalahgunaan umum dana penyalahgunaan rantai paduan
Penggunaan rantai grade 70 untuk pengangkatan overhead.
Oleh karena itu, sebelum melakukan operasi melibatkan rantai, para rigger harus memiliki pengetahuan terkait penggunaan dan perbedaan tingkat grade rantai agar tidak terjadi penyalahgunaan pemakaian.
Rantai Baja di Megajaya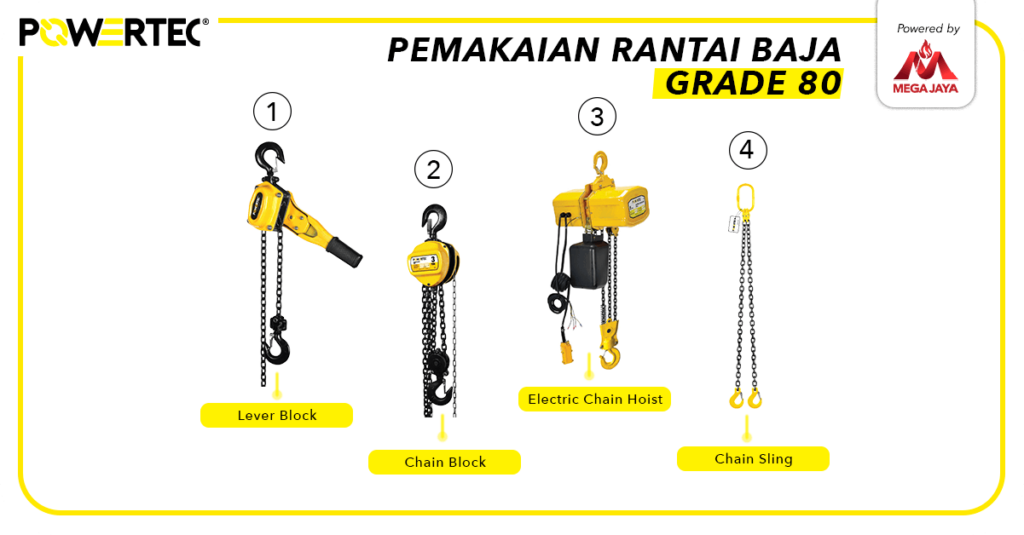 Apakah anda sedang mencari rantai baja untuk proyek anda? Rantai Baja G80 Powertec bisa jadi salah satu pilihan nya. Berdasarkan rekomendasi dari OSHA Rantai Baja Grade 80 sangat cocok bagi  aplikasi pengangkatan overhead dan penggunaan rakitan sling. Steel Chain G80 juga banyak digunakan pada beberapa alat hoist diantaranya chain block, lever block, chain hoist, hingga chain sling. Anda bisa menemukan pilihan Steel Chain berkualitas lainnya di Megajaya.co.id. Dengan berbagai tipe, ukuran dan jenis grade rantai baja yang tersedia dapat disesuaikan dengan kebutuhan pekerja anda. Cek sekarang juga!