Penggunaan Turnbuckle tidak pernah lepas dari cara tips Menggunakan Turnbuckle. Sebagian besar dari kita mungkin masih sangat asing dengan nama alat turnbuckle. Alat ini sebenarnya memiliki fungsi cukup penting. Menurut bahasa Indonesia, alat ini disebut juga sebagai jarum keras. Namun tak sedikit orang yang menamakannya sebagai spanskrup.
Sekilas Mengenai Turnbuckle (Jarum Keras)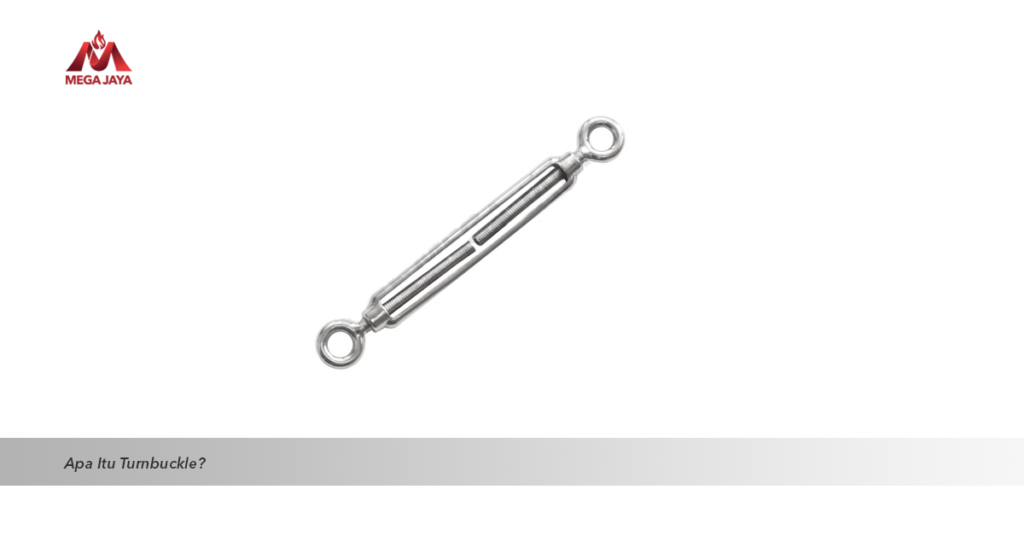 Apa Itu Turnbuckle?
Turnbuckle adalah alat yang umumnya diaplikasi dalam pengaturan ketegangan sling. Adapun sling di sini bisa berupa cain sling, wire rope sling, rope sling maupun alat lainnya yang memerlukan sistem pengaturan ketegangan.
Alat yang juga dinamakan jarum keras di Indonesia ini, mempunyai mata di bagian ujung kiri dan kanannya. Kedua mata tersebut berguna sebagai pengait benda yang tegangannya akan diatur.  Di kedua mata ini juga ada ulir pada bagian pangkalnya. 
Nah, ulir ini berfungsi untuk memendekkan dan memanjangkan span skrup (nama lain turnbuckle) untuk mengatur ketegangan. Biasanya pengaturan dioperasikan dengan cara memutar bagian mata masuk atau keluar dengan bersamaan.
Tips Menggunakan Turnbuckle (Jarum Keras) Pada Industri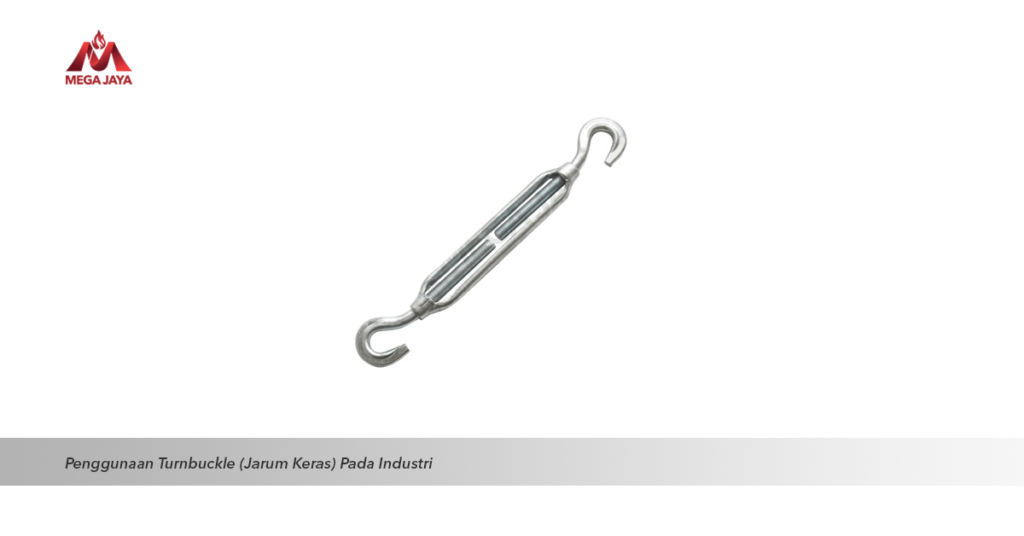 Seperti sudah dijelaskan diatas, bahwa span skrup termasuk alat rigging dengan peranan yang begitu penting pada industri berat. Alat ini biasa dipakai untuk menyambungkan/menghubungkan dua sling. Baik itu untuk webbing sling maupun chain sling, alat rigging ini juga dapat menyambungkan 2 sling saat digunakan untuk mengangkat beban. 
Walaupun demikian, peranan utama dari turnbuckle adalah mengatur ketegangan pada sling. Ketika 2 sling tersebut saling terhubung, maka jarum keras akan langsung mengatur ketegangannya.
Dalam hal ini, ketegangan sling pada industri berat biasanya akan berdampak pada berbagai hal. Seperti efektivitas alat ketika dipakai untuk menahan atau mengangkat beban yang berat. Ketika sling dihubungkan dengan pengukuran dan ukuran turnbuckle yang tepat, maka tegangannya menjadi lebih terukur. Sehingga membuat sling menjadi tidak mudah rusak dan lebih awet.
Fungsi dari span skrup sendiri banyak diterapkan dalam berbagai macam aplikasi, mulai dari pemasangan/instalasi peralatan rigging, instalasi bangunan, pipa, instalasi tiang dan bagian pengikat yang diterapkan untuk proyek pembangunan infrastruktur jembatan. 
Mengingat alat ini terbuat dari bahan yang anti korosi, wajar jika alat yang sering disebut sebagai jarum keras juga bisa dipakai di lingkungan ekstrem.
Tips Menggunakan Turnbuckle (Jarum Keras)
Jarum keras ini terdiri atas beberapa jenis bentuk ujung. Dimana jenis-jenis bentuk ujung ini diantaranya hook, eye, dan jaw. Alat ini mempunyai beberapa bentuk yang menyesuaikan kombinasi pada bentuk ujungnya, misalnya hook to hook, eye to hook, jaw to jaw, dan eye to eye. Selain itu, tips menggunakan alat ini biasanya menyesuaikan jenisnya :
1. Turnbuckle (Jarum Keras) Eye to Eye
Jenis span skrup ini berbentuk eye to eye yang didesain supaya shackle bisa terkait ke kedua bagian ujungnya. Sehingga bentuk ujung jenis ini berbentuk seperti lubang yang terdapat pada bagian mata jarum jahit namun ukurannya lebih besar. 
Adapun tips menggunakannya adalah sebuah tali dengan ujung yang berbentuk shackle bisa Anda kaitkan pada tiap-tiap ujung jarum keras. Pastikan shackle tersebut terkait dengan benar pada turnbuckle.
2. Turnbuckle (Jarum Keras) Hook to Hook
Biasanya jenis ini dimanfaatkan dalam aplikasi guy wire. Alat ini juga diaplikasikan karena gampang dikencangkan dan dipasang. Karena bisa dikencangkan dengan mudah, keuntungan yang didapat ialah sling bisa bertambah panjang ukurannya.
Akan tetapi, pemakaian jarum keras jenis ini memang lebih beresiko sebab jumlah kait pada pengaman yang dipakainya sedikit. Ketika proses pengangkatan, maka sling harus ada dalam kondisi yang tegang. Apabila sling dalam posisi renggang, bisa membuat sambungannya terlepas.
3. Turnbuckle (Jarum Keras) Jaw to Jaw
Jenis ini mempunyai bentuk menyerupai huruf "U" atau berbentuk rahang yang tersambung pada sebuah pin di tiap-tiap ujungnya. Jenis ini bisa dipakai dengan berbagai macam cara, seperti langsung menghubungkannya dengan sling. Adapun cara lainnya adalah dengan menghubungkannya pada rahang yang tersemat lainnya pada beban atau pada perangkat yang lain.
4. Turnbuckle (Jarum Keras) Eye to Hook
Adalah sejenis alat penghubung dengan ujung yang berbentuk mata pada satu bagian serta pengait pada ujung lainnya. Dengan begitu, jenis ini sangat fleksibel diaplikasikan untuk berbagai kebutuhan.
Tips Menggunakan Turnbuckle (Jarum Keras) standar internasional
Bagi orang yang memakai jarum keras atau operator sebaiknya mengetahui penggunaan alat ini dengan benar sesuai standar internasional agar alat rigging ini berfungsi maksimal. Maka dari itu, Kami akan berbagi informasi tentang cara pemakaian span skrup menurut standar internasional berikut :
Silahkan pakai span skrup dengan benar sesuai fungsinya, yang biasanya disambungkan pada

wire.

Sebaiknya jangan pakai alat ini melebihi kapasitas atau batas pemakaiannya. Dalam hal ini, Anda harus melihat tabel berupa

working load limit

turnbuckle

sebelum memakai span skrup

.

Dalam jenis span skrup stub tidak mempunyai nilai

working load

. Kekuatannya dapat Nada lihat dengan cara berpacu pada bagian sambungan las.

Apabila span skrup diaplikasikan untuk industri yang banyak vibrasi/getaran, sebaiknya dilengkapi alat ini dengan alat

lock nuts

. Dalam hal ini, Anda dapat membelinya secara bersamaan saat membeli span skrup

.

Tipe

jarum keras

Jaw Ends mempunyai perangkat keras berbeda biasanya tergantung dari ukurannya. Pada ukuran ¼ inchi hingga 5/8 inchi, tipe ini telah dilengkapi oleh mur baut atau

bolt & nut

. Sementara pada ukuran ¾ inchi hingga 1-1/2 inchi sudah dilengkapi oleh mur dengan penguncinya atau

cotter key

dan

bolt

.

Jangan gunakan alat

rigging

ini untuk pengangkatan beban.

Apabila alat ini terpaksa Anda pakai untuk mengangkat beban, sebaiknya aplikasikan penggunaanya untuk pengangkatan beban lurus jangan dipakai untuk mengangkat beban yang bersudut.
Itulah 7 poin cara menggunakan span skrup menurut standar internasional yang harus dipahami oleh para operator sebelum menggunakannya. Sebab pada dasarnya perlengkapan atau peralatan kapal menjadi lebih awet apabila pengaplikasiannya memakai teknik yang tepat. 
Apabila Anda memerlukan alat spanskrup berkualitas yang harganya terjangkau, sudah mempunyai izin perdagangan resmi dan bersertifikat di Indonesia, maka Anda bisa langsung mendapatkannya di tempat Kami di Megajaya.
Beli Turnbuckle di Megajaya.co.id
Jika Anda membutuhkan span skrup atau turnbuckle, sebaiknya konsultasikan dulu dengan distributor span skrup yang terpercaya dan handal. Pastikan Anda memilih tipe, jenis dan ukuran yang tepat menyesuaikan kebutuhan atau aktivitas Anda.
Apabila sudah benar-benar yakin membeli produk yang satu ini, Anda tinggal pilih agen atau toko distributor yang menawarkan span skrup berkualitas terbaik. Megajaya siap membantu Anda untuk memenuhi keperluan akan alat rigging yang satu ini.
Dengan begitu, Anda tidak perlu bingung lagi memilih referensi yang tepat, Kualitas dan harga yang Kami tawarkan juga sudah terjamin.
Mega Jaya adalah distributor alat rigging termasuk span skrup dari berbagai macam ukuran dan jenis dengan kualitas terbaik dan bahan material sesuai dengan kebutuhan yang bisa Anda pilih. Kami menyuguhkan produk spanskrup original, bersertifikat dan aman dari berbagai merk. Jika ingin melakukan pembelian atau berkonsultasi tentang span skrup, langsung hubungi Kami sekarang juga!