Sling adalah bagian penting dari peralatan yang digunakan dalam operasi pengangkatan dan merupakan bagian tak terpisahkan dari kegiatan di lokasi konstruksi, pembangunan kapal, industri kelautan dan banyak lainnya.
Fungsi sling menghubungkan beban ke alat pengangkat dan tersedia dalam berbagai konfigurasi yang mendukung berbagai aplikasi. Kategori sling dapat dibuat dalam konfigurasi kaki tunggal, ganda, tripel dan empat kali lipat. Sling juga dapat dijalin menjadi beberapa bagian sehingga lebih fleksibel dan mampu menangani lebih banyak kapasitas dengan meningkatkan diameter gendongan.
Pilihan sling umumnya didasarkan pada jumlah titik angkat yang tersedia pada beban. Beberapa penggunaan sling yang dikenal di berbagai industri:
Industri Manufaktur
Industri manufaktur membutuhkan banyak pemindahan dan pengangkatan benda berat. Beban ini dapat bervariasi dalam bentuk dan ukuran tergantung pada aktivitas manufaktur yang digunakan seperti produksi, pengepakan dan penjualan produk jadi dan banyak lainnya.
Industri Kelautan
Eksplorasi dan produksi minyak lepas pantai dan transportasi laut adalah dua sektor utama yang mendorong pertumbuhan industri kelautan. Mengangkat beban berat dan memindahkannya dari satu tempat ke tempat lain merupakan aktivitas yang sangat penting di sini. Salah satu faktor utama saat memilih sling untuk aktivitas maritim adalah harus mampu menahan lingkungan laut yang keras. Sling sering bersentuhan dengan air laut yang korosf dan sinar matahari yang terik.
Ada banyak peralatan yang sangat penting dalam industri kelautan laut seperti cranes, wire ropes, slings, hooks, shackles dan lainya. Mereka digunakan untuk berbagai operasi pengangkatan. Sling merupakan bagian penting dari rigging crane. Ukuran wire sling yang digunakan harus kuat dan tahan lama agar bisa dikaitkan ke kargo atau beban dengan tepat. Mengangkat perahu dan alat berat merupakan beberapa kegiatan utama yang berlangsung di bidang transportasi laut.
Industri Konstruksi
Industri konstruksi mencakup berbagai macam kegiatan seperti pembuatan kapal, infrastruktur, mendirikan menara komunikasi serta mendirikan panel beton dan baja. Beberapa peralatan digunakan untuk tujuan penggalian, sementara yang lain berfungsi sebagai alat bantu muat atau transportasi.
Hampir semua fungsi tersebut menggunakan wire sling. Chain hoist atau lever hoist digunakan untuk mengangkat beban berat dari atas. Chain hoist memakai metode katrol untuk mengangkat beban.
Tower crane menggunakan wire rope  yang tidak berputar untuk menahan beban dan penting untuk memilih ukuran wire sling yang tepat untuk tujuan tersebut. Nine-part sling sangat efektif dengan beban berat dan besar karena bobot didistribusikan secara merata di antara sembilan bagian bodi. Non-spin sling sangat penting dalam membangun struktur bertingkat.
Jenis-Jenis Sling 
Ada berbagai jenis sling sesuai fungsi, kondisi lapangan dan aplikasinya.
Round Sling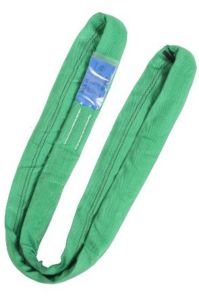 Round Sling adalah jenis sling berbentuk melingkar dengan pembungkus dari bahan sintetis.
Kelebihan dari Round Sling ini adalah:
Usia lebih tahan lama
Posisi angkat lebih sempurna jika mengangkat dengan posisi choker
Jenis sling ini lebih tipis dan ringan dibandingkan dengan synthetic sling yang lain dengan kapasitas angkat yang besar.
Webbing Sling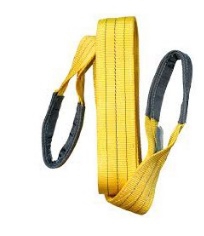 Webbing sling atau yang sering disebut juga dengan sling belt adalah jenis sling pengganti wire rope sling atau chain sling dalam aplikasi angkat (lifting) dan mengikat (choker).
Kelebihan dari webbing sling adalah:
Aman dan mudah digunakan karena lebih ringan
Lebih fleksibel
Tidak berkarat
Tidak mengotori dan merusak barang yang diangkat
Mudah untuk memeriksanya
Ukuran dan spesifikasi webbing sling adalah sebagai berikut: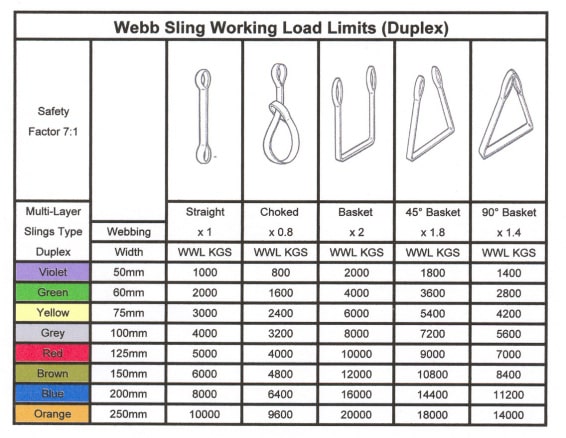 Wire Rope Sling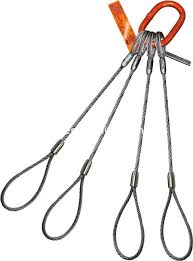 Wire rope adalah tali baja yang terbuat dari beberapa helai baja (WIRE) yang dipilin membentuk untaian (STRAND). Beberapa untaian ini dipilin lagi mengelilingi sumbu (CORE) untuk menghasilkan sebuah wire rope.
Wire Rope Sling atau disingkat wire sling adalah jenis sling yang salah satu atau kedua ujungnya sudah ditutup permanen atau dibuat mata. Wire rope sling sering digunakan sebagai metode untuk mengangkat barang (lifting), menarik mobil (towing), menambatkan kapal (mooring), mengikat barang (lashing) dan masih banyak lagi.
Wire rope sling bisa dipesan customized, yang berarti difabrikasi sesuai dengan spesifikasi dan kebutuhan lapangan. Data-data yang diperlukan untuk membuat wire rope sling adalah sebagai berikut:
Spesifikasi:

Konstruksi,
Core,
Asal,
Ukuran wire sling,
Putaran,
Finishing

Jenis ujung (terminasi) yang akan digunakan
Jumlah terminasi yang akan dibuat pada wire ropesling, satu atau dua ujung
Untuk terminasi mata:

diameter,
menggunakan thimbleatau tidak,
memakai aksesoris tambahan (hook, masterlink, ring) atau tidak

Panjang jadi yang diinginkan
Untuk Multi Legged Sling: berapa jumlah kaki yang dibutuhkan
Berapa set slingyang dibutuhkan
Mega Jaya menjual berbagai merk wire rope dengan 1, 2, 4 legs dalam beragam ukuran wire sling. Ukuran wire sling custom juga bisa dipesan di sini.
Beberapa produk terpopuler menawarkan ukuran wire sling galvanized dan ungalvanized. Varian Powertec ukuran wire sling yang tersedia mulai dari 5mm – 50mm. Selain itu tersedia jenis sling berbahan stainless steel yang lebih kuat dengan berbagai macam konstruksi. Ukuran wire sling bervariasi mulai dari 3mm – 54mm.
Kiswire, salah satu produsen wire rope terbaik di dunia, memiliki ukuran wire sling yang dapat digunakan di berbagai aplikasi berbeda. Ukuran wire sling yang tersedia: dari 8mm, 10mm, 11.2mm, 12mm, 12.7mm, 14mm, 16mm, dan 18mm. Tiap konstruksi dan ukuran wire sling tersebut memiliki spesifikasi dan working load limit berbeda.
Usha Martin, salah satu produsen wire rope terlengkap, menyediakan berbagai ukuran wire sling untuk beragam industri dan aplikasi. Wire rope ini dijamin lebih kuat dan mampu bertahan lama. Varian ukuran wire sling mulai 8mm hingga 25.4mm sebagai ukuran terbesar.
Chain Sling
Chain sling disebut juga rantai sling. Jenis sling ini terdiri dari serangkaian sambungan yang saling terhubung dan biasanya terbuat dari logam. Sebuah rantai chain sling bisa terdiri dari dua rangkaian atau lebih.
Kegunaan rantai adalah untuk:
Mengangkat, menarik, mengikat dan mengamankan sesuatu
Membantu menggerakkan mesin (biasa digunakan pada rollermesin)
Chain sling adalah rantai yang ujungnya diberikan aksesoris sebagai alat bantu angkat (Masterlink, Hammerlock atau Hook). Chain sling berguna sebagai aplikasi untuk mengangkat dan menarik.
Membuat chain sling membutuhkan data-data sebagai berikut:
Diameter rantai atau kapasitas chain sling
Jumlah kaki chain sling
Panjang jadi chain sling
Aksesoris atau fitting lain yang akan ditambahkan pada chain sling (Hook, Ring, Masterlink, Shackle, dll)
Chain sling mempunyai berbagai macam bentuk:
Ukuran chain sling:
 
Ukuran Chain Sling
Single Leg
Two Legs
0°-45°
Two Legs
45°-60°
Three and Four Legs
0°-45
Three and Four Legs
45°-60°
7mm
1.5 ton
2.1 ton
1.5 ton
3.1 ton
2.2 ton
8mm
2.0 ton
2.8 ton
2.0 ton
4.2 ton
3.0 ton
10mm
3.15 ton
4.25 ton
3.15 ton
6.7 ton
4.75 ton
13mm
5.3 ton
7.5 ton
5.3 ton
11.2 ton
8.0 ton
16mm
8.0 ton
11.2 ton
8.0 ton
17.0 ton
11.8 ton
20mm
12.5 ton
17.0 ton
12.5 ton
26.5 ton
19.0 ton
22mm
15.0 ton
21.2 ton
15.0 ton
31.5 ton
22.4 ton
26mm
21.2 ton
30.0 ton
21.2 ton
45.0 ton
31.5 ton
32mm
31.5 ton
45.0 ton
31.5 ton
67.0 ton
47.5 ton
Jenis Sling Yang Sesuai Kebutuhan Anda
Sumber Mega Jaya menyediakan berbagai berbagai jenis sling mulai dari round sling, webbing sling, chain sling, dan wire sling. Merk dan ukurannya yang bermacam-macam juga tersedia. Anda juga bisa memesan kustomisasi ukuran wire sling dan sling jenis lainnya.
Tidak hanya melayani penjualan, Mega Jaya juga menyediakan konsultasi gratis agar Anda mendapatkan ukuran wire sling yang sesuai. Hubungi kami jika ada pertanyaan dengan klik tombol di pojok kanan bawah halaman ini untuk berbicara dengan customer service kami.