Span skrup adalah salah satu alat rigging equipment yang dipergunakan untuk mengatur dan mengontrol tingkat ketegangan sling. Sling yang dimaksud disini berupa webbing sling, wire rope sling, chain sling, dan berbagai peralatan lain yang membutuhkan alat bantu untuk mengatur tingkat ketegangan. A
Alat ini dikenal dengan berbagai nama lain mulai dari turnbuckle, span scroef, span screw, dan hard needle (jarum keras), Span sekrup M12 dan span skrup M16 dan berbagai tipe lainnya merupakan alat yang sangat berguna dan dipergunakan dalam berbagai jenis industry.
Alat ini dapat dipergunakan untuk aplikasi yang sederhana misalnya mengatur tegangan pada kabel pembatas atau untuk aplikasi yang lebih rumit misalnya proses konstruksi suspension bridge. Penggunaannya sendiri dapat bersifat secara mandiri atau bersama dengan kunci keras lainnya.
Bagian-bagian Span Skrup
Seperti halnya peralatan lain yang dipergunakan dalam industri rigging , alat yang satu ini tersedia dalam berbagai tipe, jenis, ukuran, dan konfigurasi misalnya span skrup M12, span skrup M16, dan lain sebagainya. Untuk mempertahankan suasana kerja dalam industri rigging yang aman dan juga efektif. Pastikan untuk memilih alat yang tepat. Hal pertama yang perlu Anda ketahui berkaitan dengan hal ini adalah mengenal bagian-bagian dari spanskrup yang terdiri dari:
1. Bagian badan
Bagian badan span skrup M12, span skrup M16 dan jenis lainnya merupakan frame metal yang menghubungkan kedua ujungnya. Bagian ini terdiri dari 2 tipe yaitu terbuka dan tertutup. Tipe terbuka merupakan tipe tradisional dimana bagian pegas terlihat dengan jelas. Sementara itu, tipe tertutup menyerupai sebuah pipa yang menyembunyikan pegas di dalamnya.
2. Bagian ujung
Pada bagian ujung dari span skrup M12, span skrup M16 ataupun jenis lainnya, Anda akan menemukan 3 bentuk yang berbeda. Ketiga bentuk ujung (end fitting) ini dapat dipergunakan secara bersamaan atau kombinasi antara satu dengan yang lain. Ketiga bentuk tersebut adalah:
a. Hook: Tipe ini dipergunakan untuk menciptakan hubungan atau jalinan yang bersifat sementara karena bentuk kait ini sangat mudah untuk dihubungkan dan dilepaskan. Tipe ini tidak boleh dipergunakan dalam kondisi dimana ketegangan yang ada dapat turun atau lepas dengan seketika
b. Jaw: Tipe ini terdiri dari baut dan jaw yang dikunci menggunakan pin. Tipe ini dipergunakan untuk dihubungkan dengan komponen yang tidak dapat dibuka seperti eye bolt.
c. Eye: Tipe ini berupa lubang berbentuk lingkaran yang dapat dihubungkan dengan shackle atau quick link.
Jenis-jenis Span Skrup
Jenis-jenis span sekrup ini terbagi atas jenis atau bentuk ujung (end fitting) yang dipergunakan oleh alat tersebut. Dari segi ini, turnbuckle alias kunci keras terbagi menjadi:
1. Jaw and jaw
Tipe ini mampu memberikan tekanan yang seimbang pada kedua sisi dan dapat dipergunakan untuk menghubungkan span sekrup dengan item apapun.
2. Eye and jaw
Tipe ini merupakan tipe yang paling umum dan paling versatile mengingat kombinasi kemampuan yang ditawarkan.
3. Eye and eye
Tipe ini memiliki keunggulan utama dalam hal keamanan. Bila ada resiko tergelincirnya barang selama proses pengangkatan, maka Anda wajib menggunakan alat ini untuk memastikan keamanannya.
4. Eye and hook
Tipe ini tidak disarankan dalam situasi dimana tegangan pada kabel atau tali dapat berkurang karena hal ini akan membuat bagian hook lepas dengan seketika dan justru membahayakan bagi orang-orang di sekitarnya.
5. Hook and hook
Tipe ini tidak disarankan untuk pengangkatan karena selalu ada resiko tergelincir. Pergunakan alat ini untuk menyesuaikan panjang dari kabel atau tali. 
Kombinasi dari end fitting pada span skrup M12 ini dilakukan untuk menentukan tujuan serta kebutuhan dari penggunaan alat tersebut apakah bersifat sementara atau permanen. Bila kebutuhan penggunaan alat ini adalah untuk menghubungkan tali atau sling yang sering pasang-lepas, maka tipe hook adalah pilihan terbaik.
Bila alat ini akan dihubungkan  dengan eye bolt¸ maka tipe jaw menjadi pilihan tepat. Sementara itu, tipe eye lebih cocok untuk kebutuhan menghubungkan antara sling yang memiliki quick link ataupun shackle.
Kebutuhan Penggunaan Span Skrup
Seperti yang telah disebutkan sebelumnya, alat ini memiliki penggunaan luas di berbagai jenis industry. Beberapa contoh industri yang menggunakannya adalah:
a. Transportasi laut: alat ini dipergunakan sebagai pengatur tegangan pada ship lashing dan ragam komponen rigging lainnya
b. Konstruksi: Alat ini baik dalam tipe spanskrup M12 atau spanskrup M16 umumnya dipergunakan pada proses pembangunan bangunan besar dan jembatan gantung.
c. Olahraga dan hiburan: Alat tersebut dipergunakan sebagai titik pengaman dan mengatur tegangan pada tali yang mengelilingi ring tinju.
d. Penerbangan: Ragam tipe alat ini termasuk span skrup M12 dan span skrup M16 dipergunakan untuk mengatur tegangan segala jenis kabel  dan kawat yang dipergunakan dalam proses konstruksi pesawat.
Material Pembuatan Span Skrup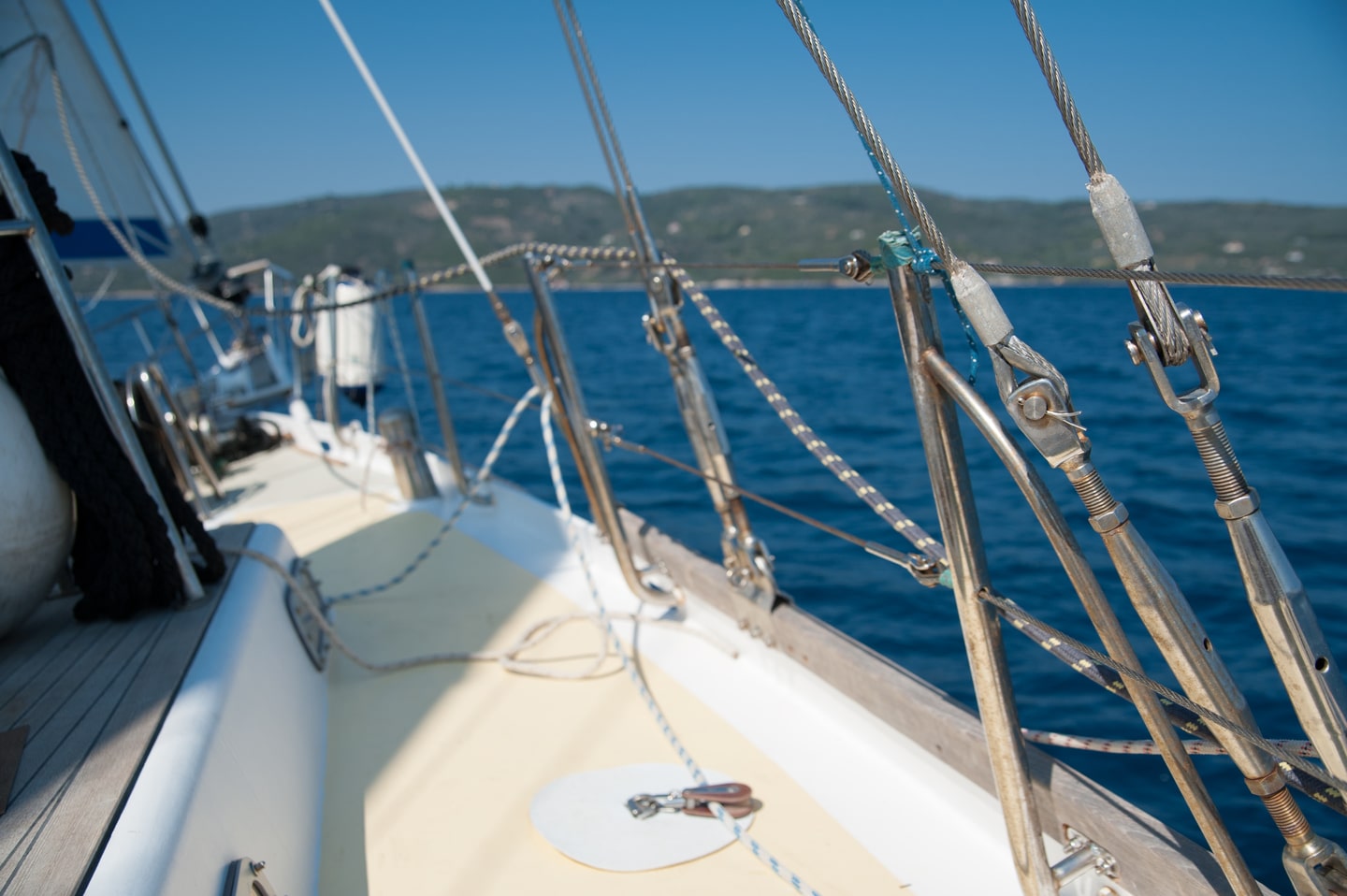 Span skrup M12, span skrup M16, serta berbagai tipe lainnya terbuat dari material khusus yang membuatnya mampu melaksanakan fungsinya dengan maksimal. Untuk memberikan performa terbaik, pastikan Anda memilih alat yang terbuat dari material yang tepat untuk kebutuhan masing-masing.

Alat ini umumnya terbuat dari 2 jenis material yaitu galvanized steel dan stainless steel. Galvanized steel merupakan pilihan paling ekonomis. Idealnya alat ini lebih cocok dipergunakan untuk area indoor. Bila Anda ingin menggunakannya untuk area outdoor ataupun di area yang bersifat basa, maka Anda perlu berhati-hati karena sifatnya yang lebih rentan terhadap korosi.

Material kedua adalah stainless steel. Material ini lebih ideal untuk penggunaan outdoor bahkan untuk area yang terpapar air asin seperti di laut mengingat sifatnya yang tahan terhadap korosi dan karat.
Pemilihan Span Skrup yang Tepat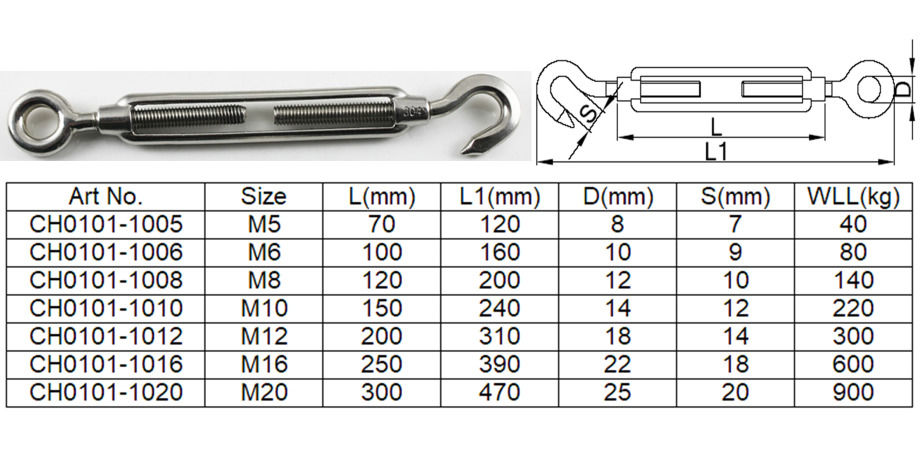 Untuk memastikan Anda menggunakan tipe yang tepat apakah itu span skrup M12, span skrup M16 atau lainnya, pastikan untuk memperhatikan beberapa hal berikut:
a. Jenis kebutuhan alat tersebut. Hal ini akan mempengaruhi jenis end fitting yang akan dipergunakan apakah itu jaw, eye, atau hook.
b. Area penggunaan alat. Apakah alat tersebut akan dipergunakan di area outdoor dan area yang bersifat basah atau tidak? Hal ini akan mempengaruhi jenis material pembangun dari alat tersebut.
c. Ukuran atau kemampuan ketahanan beban (working load limit). Hal ini tentu saja perlu disesuaikan dengan kebutuhan yang ada di lapangan. Pergunakan span skrup dengan WWL yang sesuai dengan beban yang akan diangkat atau dihubungkan untuk menjamin keamanan dan kualitas kerja produk. Informasi perihal  ukuran dan kemampuan ketahanan beban ini terdapat pada sisi dari turnbuckle, tepat di samping nama produsen alat tersebut.
Sebagai penutup, spanskrup merupakan alat yang terbilang sederhana dalam pengoperasian namun sangat bermanfaat di lapangan. Alat ini mampu mengatur tegangan sesuai dengan kebutuhan di lapangan dan hal inilah yang membuatnya menjadi salah satu alat yang wajib hadir dalam daftar alat kerja wajib di industri Anda.
Mega Jaya Distributor Jual Span Skrup Beragam Tipe dan Ukuran
Mega jaya sebagai distributor menyediakan span skrup dengan beragam jenis dan merk, pastikan Anda melakukan pembelian di mega jaya dengan penawaran harga terbaik. Kunjungi halaman span skrup merk powertec untuk mengetahui detail produk kami atau klik tombol whatsapp di bagian kanan bawah untuk terhubung dengan customer service kami.
Baca Juga: