Jika Anda bekerja di bidang pekerjaan yang menggunakan peralatan lifting dan rigging equipment, maka Anda harus memahami standar OSHA dan ASME yang mengatur terkait penggunaan, desain dan pengujian peralatan tersebut dengan aman.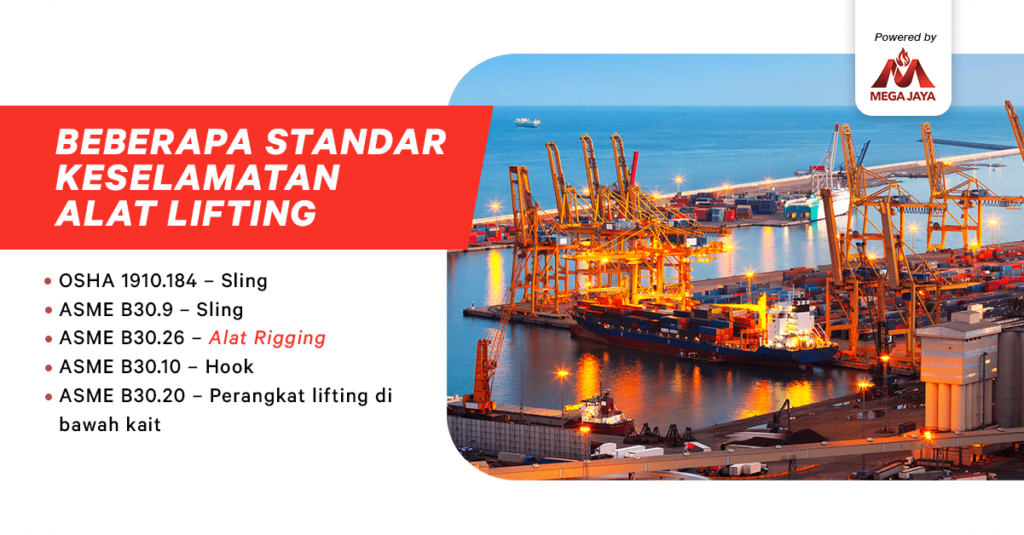 Beberapa standar keselamatan yang paling sering dijadikan acuan untuk paralatan lifting dan alat rigging, diantaranya sebagai berikut :
OSHA 1910.184 – Sling

ASME B30.9 – Sling

ASME B30.26 –

Alat Rigging

ASME B30.10 – Hook

ASME B30.20 – Perangkat lifting di bawah kait
Walaupun informasi dalam standar keselamatan di atas sangat penting, agar penggunaannya lebih sesuai.
Saat inspektor alat rigging atau spesialisasi alat lifting pergi ke lapangan untuk menginspeksi, tak sedikit industri yang menyalahgunakan penggunaan alat. Bahkan ada saja peralatan yang rusak. Hal ini sangat berbahaya untuk aplikasi pengangkatan.
Di dalam artikel ini, Kami akan membagikan beberapa contoh nyata terkait rigging equipment, sling dan alat lifting yang rusak dan sudah tidak layak pakai. Selain itu, Anda juga harus tahu kenapa perangkat tersebut harus dilepas dari layanan.
1. Sling Hook
Sebelum membahas alat rigging, Anda harus tahu standar penggunaan untuk sling hook terlebih dahulu. Bentuk sling hook yang sudah berkarat tentu saja harus benar-benar dibuang atau dilepas dalam layanan industri Anda. Bagaimanapun, dari tampilannya saja sling hook yang berkarat sudah berubah bentuk. Kerusakan pada kail ini kemungkinan besar disebabkan oleh overloading kail atau tip loading yang bukaannya lebih meregang diluar bentuk aslinya.
Di samping itu, mengingat terjadinya deformasi / perubahan bentuk pada alat, kait-kait tidak lagi bisa mencapai bagian ujung kait untuk mencegah sling atau beban terlepas pada kait secara tidak sengaja.
Untuk lebih jelasnya terkait kriteria rigging equipment ini yang sesuai standar berdasarkan ASME B30.10 – Hook.
2. Synthetic Web Sling
Bentuk synthetic web sling yang sudah terlihat rusak tentu saja tidak bisa digunakan begitu saja. Karena sudah tidak sesuai, apalagi jika alat rigging tersebut terlihat rapuh maka tidak bisa dipakai untuk mengangkat dengan simpul apapun yang ada di bagian badan sling.
Belum lagi, saat kondisinya sudah rusak biasanya sling tag sudah tidak bisa terbaca. Jika sling tag tidak terbaca atau hilang, maka secara otomatis Anda harus melepas pelayanan sling atau jangan menggunakan alat ini kembali.
Standar yang relevan terkait Synthetic web sling ialah ASME B30.9 – Sling.
3. Non Standard Lifting Hook
Alat pengangkat hook yang tidak sesuai standar juga harus dibuang dari penggunaan pengangkatan. Kait pengangkat rigging equipment ini dibuat sendiri kemudian dimodifikasi dengan cara mengelas baut mata ke bagian atas yang menyerupai bentuk perangkat kait c. Sesuai persyaratan dari ASME B30.20-Alat lifting di bawah kait, perangkat ini nampaknya tidak mempunyai identifikasi yang menunjukkan nomor seri, peringkat beban, pabrikan dan informasi desain penting lainnya di dalamnya.
Tanpa tanda atau identifikasi yang terlihat, maka kita tidak akan mengetahui berapa kapasitas beban benda yang diangkat pada perangkat ini, dan tidak sesuai untuk aplikasi pengangkatan.
Standar yang relevan terkait penggunaan alat rigging ini, diantaranya ialah ASME B30.20-Perangkat pengangkat di bawah kait, dan ASME BTH-1-Desain perangkat lifting di bawah kait.
4. Non Standard Cylinder Lifting Device
Rigging equipment dan alat lifting ini termasuk perangkat darurat yang terdiri atas mata yang dilas ke bagian tutup dan digunakan untuk mengangkat silinder baja besar. Biasanya tutup dibuat sendiri dan tidak terlalu penting untuk tujuan pengangkatan dan perangkat akan dilas bersamaan.
Per ASME B30.20 untuk standar perangkat lifting di bawah kait. Perangkat yang tidak sesuai standar tidak memiliki identifikasi yang menunjukkan nomor seri, peringkat beban, pabrikan dan tanda lain di atasnya. Tanpa identifikasi dan tanda yang tepat pada alat rigging ini, tidak ada cara untuk mengetahui kapasitas yang mampu diangkat oleh perangkat ini dengan aman.
5. Foundry Hook
Alat rigging ini ialah sejenis pengait pengangkat yang dirancang untuk digunakan dalam pengangkatan tanpa grendel. Namun foundry hook menjadi tidak layak jika terjadi perubahan bentuk. Perubahan bentuk yang terjadi biasanya disebabkan oleh pembebanan samping atau kelebihan beban. Ada putaran yang jelas pada hook dan sedikit peregangan pada bukaannya. Jika sudah terjadi deformasi, maka alat rigging ini secara otomatis harus dihapus dari layanan.
Adapun standar layanan yang relevan pada alat rigging ini yaitu ASME B30.10 mengenai kait atau hook.
6. Modified Eyebolt
Kenapa alat rigging ini harus dihapus dalam layanan? Eyebolt ini sudah dimodifikasi dengan sekrup yang dilas ke bagian atas mata. Modifikasi eyebolt sebenarnya tidak diperbolehkan karena tidak sesuai standar dan membuat shank pada mata baut originalnya sudah bengkok. Entah itu karena terjadinya deformasi maupun modifikasi pada mata baut membutuhkan pelepasan layanan.
Standar yang relevan pada alat rigging ini ialah ASME B30.26 mengenai alat rigging hardware.
7. Synthetic Sling Shackle
Sling shackle dalam kondisi sedikit rusak dan mempunyai beberapa serpihan cat yang hilang dan secara keseluruhan tampak dalam kondisi yang baik. Untuk hal ini, alat rigging ini tidak mempunyai kerusakan nyata yang melanggar standar industri dan tidak membutuhkan penghapusan dari layanan.
Bentuk busur pada equipment rigging itu berbeda dari chain shackle atau anchor shackle. Synthetic sling shackle memiliki busur dengan ukuran lebih lebar untuk meningkatkan efisiensi pada roundsling atau synthetic web menghasilkan 100% batas beban kerja sling yang harus dicapai.
8. Shackle
Jika terjadi kerusakan yang berlebihan pada shackle atau salah satu alat rigging ini, tentu saja Anda harus benar-benar menghapusnya dari layanan. Bahkan karena saking rusaknya, sehingga sulit membedakan apakah shackle ini termasuk jenis pin pulat, sekrup atua baut.
Kerusakan shackle yang terlihat jelas, seperti penitinya yang bengkok, retak dan bentuknya tidak lagi memanjang kemungkinan disebabkan oleh beban yang berlebih pada shackle sampai putus.
Standar penggunaan equipment rigging untuk shackle bisa mengacu pada standar ASME B30.26 – Rigging Hardware.
9. Section off Alloy Chain Sling
Kenapa alat rigging yang satu ini harus dihapus dari layanan? Jika kita menemukan section of alloy chain sling dengan gouge di beberapa tautan atau sling, maka Anda harus mempertimbangkan penghapusan alat ini. Kerusakan pada salah satu equipment rigging dan lifting ini kemungkinan disebabkan oleh penyalahgunaan pemakaian dan penyalahgunaan sling.
Untuk melihat standar acuan penggunaan sling atau alat rigging yang relevan bisa mengacu pada OSHA 1910.184-Sling dan ASME B30.9-Sling.
10.  Web Sling dan Lifting Clamp Buatan Sendiri
Baik itu sling maupun klem tidak akan aman diaplikasikan dalam opsi lifting di atas kepala. Simpul yang ada dalam sling menjamin penghapusan dari layanan. Selain penempatan simpul yang tidak sesuai pada sling pengangkat, juga simpul digunakan untuk menghubungkan antara klem dengan sling, alih-alih perangkat penghubung mekanis atau las yang disetujui. Selain itu, jika sling terlihat mengalami lecet yang parah dan mata di setiap ujungnya sudah tidak ada, maka alat rigging yang satu ini harus dihilangkan dari layanan.
Adapun standar penggunaan equipment rigging ini yang relevan ialah ASME B30.9-Sling, ASME B30.20-Below the hook lifting device, dan ASME BTH-1-Design of Below-the-Hook Lifting Devices.
Itulah kriteria kerusakan yang terjadi pada equipment rigging dan alat lifting yang harus Anda pahami. Dengan memahami kriteria dan standar penggunaan alat rigging di atas, pastikan Anda mengecek alat-alat industri Anda terutama untuk penggunaan alat rigging di atas. Jika sudah tidak layak, sebaiknya buang pada layanan.