Mengenal Tipe-tipe Stainless steel: Sejarah, Material Pembuatan, Kategori, Hingga Jenis Grade  (Part 1)
Mengenal Tipe-Tipe Stainless Steel merupakan hal yang menarik untuk dipelajari. Stainless steel merupakan suatu paduan baja dengan kandungan setidaknya 10,5% Cr (kromium). Material tipe stainless steel ini memiliki daya tahan terhadap oksidasi tinggi di dalam udara dan suhu lingkungan. Hal ini berkat adanya tambahan dari 13% Chrom. Stainless steel termasuk bahan yang ramah lingkungan sebab usia penggunaannya bisa dikatakan sangat lama. 
Pengertian Stainless Steel Secara Umum
Stainless steel adalah sejenis baja paduan paling populer yang memiliki ketahanan tinggi terhadap korosi. Umumnya stainless steel terdiri atas campuran karbon, besi dan kromium, yang seringkali dilengkapi oleh unsur lain seperti nikel. Adanya campuran kromium yang dimiliki oleh material jenis stainless steel inilah yang menjadikannya lebih tahan korosi.
Pemilihan material tipe stainless steel memiliki fungsi yang beragam karena stainless steel mempunyai banyak kelebihan. Beberapa kelebihannya antara lain mudah dibentuk, memiliki ketahanan suhu rendah dan tinggi, bersifat tahan lama dan kuat. Selain itu, material ini sangat mudah dirawat dan dibersihkan, bersifat tahan lama, menarik, dan tentu saja ramah lingkungan.
Sejarah Perkembangan Stainless Steel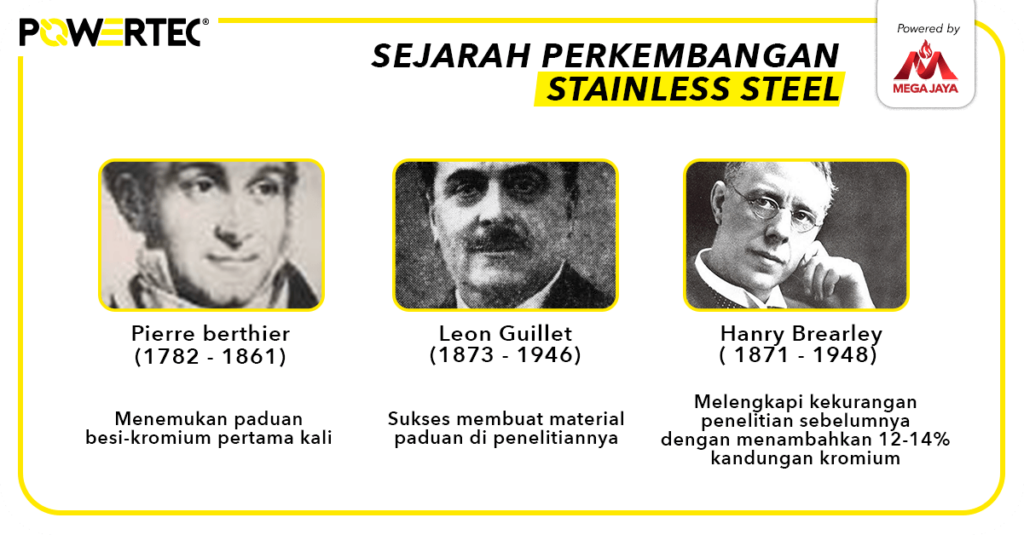 Sejarah stainless bermula sejak awal kemunculannya, dimana terdapat beberapa besi yang bersifat tahan korosi pertama yang ditemukan dari artefak-artefak yang telah bertahan selama ribuan tahun sejak zaman purbakala. Pada artefak tersebut tidak mengandung kromium. Namun, yang menjadikan artefak logam tersebut tahan korosi yaitu ditemukannya sejumlah fosfor pada kandungannya.
Sedangkan paduan dari besi-kromium ditemukan pertama kali dalam sejarah stainless steel menjadi material anti karat oleh Pierre Berthier di tahun 1821. Lalu, material ini diaplikasikan ke dalam alat pemotong, berupa pisau. Hans Goldschmidt yang berasal dari Jerman, tepatnya di akhir tahun 1890-an akhirnya mengembangkan aluminotermik yang digunakan untuk proses produksi krom tanpa karbon.
Leon Guillet akhirnya di tahun 1904-1911 sukses membuat material paduan di beberapa penelitiannya dan sekarang dinamakan sebagai material stainless steel. Namun, masih memiliki beberapa kelemahan. Kemudian pada tahun 1912 oleh Hanry Brearley, material tipe stainless steel ini mengecek korosi pada senapan. 
Berdasarkan sejarah stainless steel, Brearley akhirnya melakukan pengujian dengan menambahkan kandungan kromium pada baja. Menurut hasil percobaan tersebut, ia telah menambahkan kromium mulai dari 12%-14%. Dengan demikian, baja akhirnya bisa tahan korosi. Dari sinilah sejarah stainless steel dimulai.
Setelah itu, Brearley melihat adanya kemungkinan bahan tersebut dapat dipasarkan menjadi bahan baku peralatan dapur. Akhirnya ia menamai stainless steel. Sedangkan berdasarkan sejarah Stainless steel, material ini diproduksi pertama kali pada Agustus 1913 tepatnya di laboratorium Brown Firth. 
Bahan yang Digunakan Untuk Membuat Stainless Steel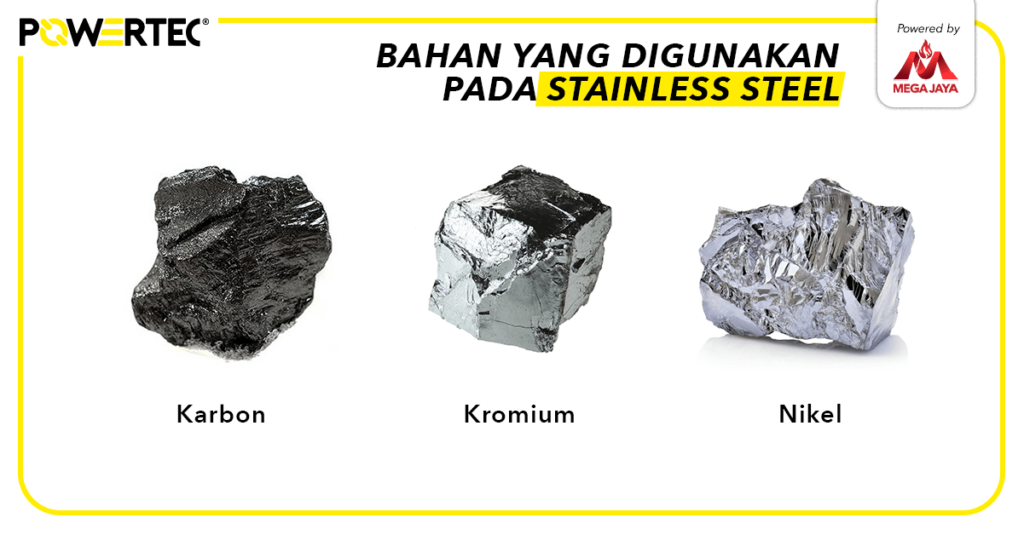 Bahan yang digunakan untuk membuat tipe stainless steel sangat beraneka ragam. Macam Stainless bisa dibedakan berdasarkan pada bahan pembuatannya, berikut ini :
1. Karbon
Macam stainless steel yang mengandung karbon tinggi biasanya jauh lebih tahan lama dan awet daripada baja paduan lainnya. Tipe stainless steel ini biasanya populer dalam produksi peralatan yang bersifat food grade serta pada peralatan memasak.
2. Kromium
Macam stainless steel dengan kandungan kromium biasanya mempunyai ketahanan terhadap korosi yang tinggi. Salah satu contoh yang terkenal dari tipe stainless steel ini adalah Gateway Arch di St.Louis.
3. Nikel
Bahan baku nikel menjadikan stainless steel memiliki kemampuan las, bentuk dan tingkat keuletan material yang tinggi. Selain itu, macam stainless steel dengan bahan nikel ini juga dapat meningkatkan ketahanan terhadap korosi. Nikel adalah material yang memungkinkan stainless steel sebagai paduan yang serbaguna.
Kategori Stainless Steel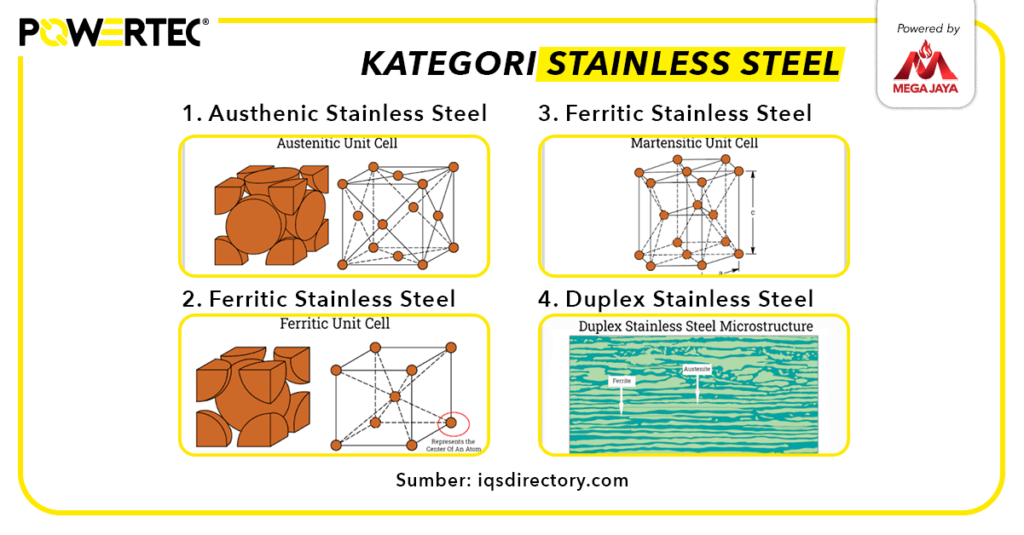 Berikut ini ada beberapa macam stainless steel yang perlu Anda ketahui :
1. Austenitic Stainless Steel
Macam stainless steel ini termasuk yang paling mudah ditemukan di dalam kehidupan, sebab mempunyai tingkat korosi yang rendah. Tipe stainless steel ini tidak gampang terpengaruh oleh temperature.
Material ini juga tidak gampang terpengaruh tingkat keasaman. Mengingat ketahanan terhadap suhu dingin dan panas inilah, austenitic stainless steel biasanya sering dijadikan sebagai material peralatan dapur.
2. Ferritic Stainless Steel
Ferritic stainless steel merupakan tipe stainless steel yang berbeda dari jenis umumnya, karena feritik masih dapat ditarik oleh magnet. Walaupun tergolong ke dalam macam stainless steel, ferritic mempunyai tingkat korosi sangat tinggi. 
3. Martensitic Stainless Steel
Macam stainless steel selanjutnya yaitu martensitic. Kandungan karbon pada jenis ini lebih tinggi dibandingkan pada tipe stainless steel yang lainnya. Selain itu, martensitic mempunyai karakteristik lebih kuat daripada tipe yang lain. Biasanya martensitic dijadikan sebagai bahan baku untuk peralatan bedah dan pisau.
4. Duplex Stainless Steel
Duplex Stainless Steel adalah jenis yang biasanya terbuat dari campuran austenitic dan ferritic. Tipe stainless steel ini dapat ditarik oleh magnet, bisa dibentuk dengan mudah, dan tidak mudah korosif. 
Biasanya material ini dipakai untuk dijadikan material alat transportasi dan bahan kimia. Selain itu, ada 2 jenis duplex, diantaranya super duplex and duplex biasa. 
5. Precipitation-Hardened (PH) Stainless Steel
Precipitation-hardened (PH) Stainless Steel adalah tipe stainless steel lainnya. Sesuai namanya, PH Stainless Steel adalah stainless steel yang dikeraskan dan mengandung sejumlah aluminum, tembaga, molybdenum dan titanium. 
Sesudah stainless steel dicampur, tipe stainless steel ini biasanya dikenai perlakuan pengerasan untuk mengendapkan semua elemen tersebut sebagai elemen intermetalik keras. 
Fase endapan menghambat pergerakan dislokasi, cacat pada struktur kisi kristal dan memberikan kekerasan serta kekuatan yang sangat baik pada stainless steel. Jenis stainless steel ini mempunyai ketahanan korosi yang sebanding dengan stainless steel austenitic. 
Jenis Grade Stainless Steel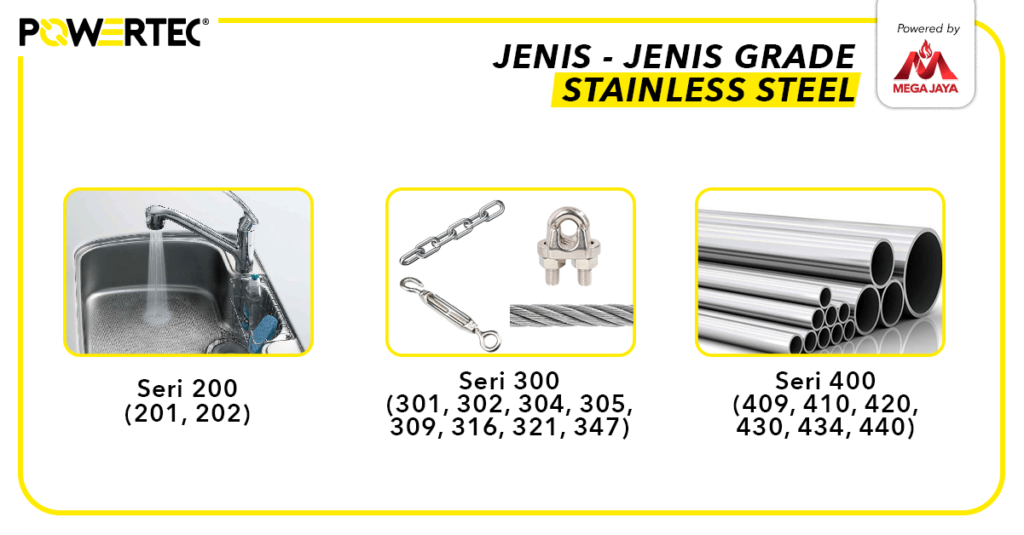 Berikut beberapa jenis grade pada tipe stainless steel di bawah ini :
1. Austenitic Chromium-Nickel-Manganese Alloys (Grade 200 Series)
Austenitic Chromium-Nickel-Manganese Alloys terdiri dari tipe stainless steel grade 201 dan 202 :
Stainless Steel Grade 201
Macam stainless steel grade 201 adalah stainless steel austenitic dengan kandungan nikel sekitar 3,5%-5,5% dan kromium 16-18%. Tipe stainless steel ini merupakan pengganti stainless steel grade 304 dan paduan nikel tinggi. Mengingat kandungan paduan nikelnya lebih rendah, maka stainless steel ini memberikan perlindungan korosi di bawah rata-rata.
Namun, harganya lebih terjangkau dibandingkan harga stainless steel lainnya dan memiliki konsentrasi nitrogen dan mangan yang bisa ditingkatkan untuk meningkatkan kekuatan luluhnya. Fleksibilitas stainless steel 201 disebabkan oleh kemampuan las dan bentuknya yang baik.
Stainless Steel Grade 202
Tipe stainless steel grade 202 merupakan macam stainless steel dengan kandungan mangan 7,5-10%, kromium 17-19% dan nikel 4-6%. Merupakan precipitation-hardened (PH) stainless steel yang banyak digunakan. Mempunyai tingkat kekerasan tinggi, kekuatan, kemampuan las dan ketangguhan.
Tipe stainless steel ini hampir mempunyai sifat yang sama seperti stainless steel grade 302, namun grade 202 mempunyai kekuatan luluh lebih baik. Stainless steel grade 202 bisa dikerjakan dalam kondisi anil. Sama halnya dengan grade 201, grade 202 cenderung hemat biaya.
2. Austenitic Chromium-Nickel Alloys (Grade 300 series)
Stainless Steel Grade 301
Stainless steel grade 301 adalah sejenis stainless steel austenitic. Tipe stainless steel ini menawarkan ketahanan korosi yang sama seperti grade 304 pada lingkungan yang sedikit korosif. Akan tetapi, ketahanan korosi grade 301 lebih rendah di lingkungan yang sangat korosif serta memiliki temperature tinggi, sebab mengandung kromium yang lebih rendah sekitar 16-18%. 
Tipe Stainless steel grade 301 mempunyai kekuatan tinggi serta telah tersedia dalam kondisi anil. Variasi anil pada grade ini menawarkan kemampuan bentuk tinggi, sementara variasi pengerjaan pada suhu dingin mempunyai kekuatan lebih tinggi.
Macam stainless steel grade 30 sangat cocok digunakan untuk pengelasan. Tapi grade 301 yang dilas memerlukan anil untuk melarutkan kromium karbida yang diendapkan akibat pengelasan serta mencegah terjadinya serangan intergranular.
Stainless steel grade 301L merupakan tipe stainless steel grade 301 yang sudah ditingkatkan kemampuan las dan keuletannya. Tidak perlu anil untuk mencapai ketahanan korosi tinggi. Sementara, varian lainnya yaitu grade 301N, yang memiliki kandungan nitrogen lebih tinggi dan mempunyai tingkat pengerasan lebih tinggi.
Stainless Steel Grade 302
Tipe stainless steel grade 302 merupakan stainless steel austenitic dengan kandungan 8% nikel dan 18% kromium. Kandungan bahan kimianya hampir sama seperti pada stainless steel grade 304, terkecuali kandungan karbonnya yang lebih tinggi sedikit. 
Stainless steel grade 302 mempunyai kekuatan tarik, ketangguhan tinggi, ketahanan korosi dan kekuatan luluh. Grade 302 diproses dalam kecepatan rendah dan volume umpan yang tinggi agar dapat mengatasi kecenderungan pengerasan. 
Metode pengelasan yang direkomendasikan pada macam stainless steel grade 302 adalah pengelasan resistansi dan pengelasan shielded fusion. 
Stainless Steel Grade 304 
Tipe Stainless steel grade 304 merupakan stainless steel austenitic paling populer. Mengandung 8% nikel, dan 18% kromium. Grade 304 mempunyai tingkat ketahanan kimia, korosi dan oksidasi yang sangat baik pada berbagai suhu. Akan tetapi, sangat rendah terhadap korosi pitting dan korosi tegangan retak jika terpapar klorida.
Pada grade 304, ada tipe yang memiliki kadar karbon yang rendah dan karbon tinggi, diantaranya grade 304L serta grade 304H. 
Tidak hanya mempunyai ketahanan korosi sangat baik, stainless steel grade 304 juga mempunyai tingkat keuletan tinggi. Maka dari itu, jenis ini bisa dibentuk dengan mudah dan dapat digunakan dalam pekerjaan berbagai macam produk. Grade 304 mempunyai kemampuan bentuk lebih tinggi dibandingkan grade 316. 
Stainless Steel Grade 305
Tipe stainless steel grade 305 merupakan stainless steel austenitic dengan kandungan 10% nikel, kromium 18% dan jumlah karbon tinggi. Mempunyai ketahanan korosi dan bahan kimia yang baik, serta memiliki tingkat kekuatan tinggi. 
Mempunyai tingkat pengerasan kerja rendah sebab mengandung kadar nikel yang tinggi. Tingkat pengerasan kerja yang rendah menjadikan grade 305 sangat ideal pada aplikasi deep drawing. Grade 305 bisa dilas menggunakan metode fusi dan resistensi, tapi tidak dianjurkan untuk pengelasan oxyacetylene.
Tipe Stainless steel grade 309 adalah stainless steel austenitic yang mengandung minimal kromium 22%, sedikit karbon dan nikel 12%. Mempunyai ketahanan oksidasi dan korosi yang sangat baik, kekuatan tarik dan mulur tinggi dapat dipertahankan pada temperature tinggi. Stainless steel ini dapat tahan terhadap lingkungan saline.
Grade 309 bisa dibentuk, ditarik, dicap, dan digulung dengan mudah. Anil dibutuhkan sesudah proses pengerjaan dingin untuk mencegah pengerasan kerja sekaligus mempertahankan tingkat keuletannya.
Stainless Steel Grade 316
Stainless steel grade 316 merupakan grade paling populer dan banyak digunakan setelah grade 3014. Termasuk stainless steel dengan kandungan jumlah molybdenum tinggi, silicon, karbon, mangan, kromium dan nikel yang juga tinggi. 
Karena konsentrasi molybdenum yang tinggi menjadikan grade 316 lebih tahan korosi dan celah dibandingkan grade 304 pada lingkungan salin. Mempunyai karakteristik pembentukan dan pengelasan yang baik. 
Stainless Steel Grade 321
Macam stainless steel grade 321 termasuk stainless steel austenitic yang distabilkan oleh titanium dengan tingkat ketahanan korosi tinggi. Jenis ini mempunyai ketahanan sangat baik terhadap presipitasi kromium karbida saat terpapar suhu tinggi. Selain itu, mempunyai sifat tegangan lebih tinggi dibanding grade 304.
Grade 321H pada tipe ini termasuk modifikasi grade 321. Mempunyai ketahanan mulur yang dapat ditingkatkan, dengan kandungan karbon lebih tinggi sehingga meningkatkan kekuatannya pada suhu lebih tinggi.
Stainless Steel Grade 347
Tipe ini termasuk stainless steel yang telah distabilkan oleh niobium. Sama halnya dengan grade 321, grade 347 tidak rentan terhadap pengendapan kromium karbida, serta mempunyai ketahanan korosi intergranular sangat baik. Tipe stainless steel ini mempunyai ketahanan korosi baik dan menawarkan ketahanan oksidasi sedikit lebih baik dibandingkan grade 321. 
3. Ferritic and Martensitic Chromium Alloys (Grade 400 series)
Stainless Steel Grade 409
Tipe grade 409 merupakan jenis stainless steel ferritic yang telah distabilkan dengan niobium dan atau titanium. Termasuk tipe stainless steel yang mempunyai sifat mekanik baik dengtan ketahanan korosi yang bisa bertahan pada temperatur tinggi. Mempunyai kemampuan bentuk dan pengelasan yang baik.
Grade 409 dapat dilas melalui berbagai macam metode, seperti resistance spot, seam welding, dan arc. Akan tetapi, pengelasan grade 409 membutuhkan pemanasan awal dari 150 sampai 2600C. Tidak cocok digunakan untuk aplikasi estetika sebab cenderung membentuk permukaan berkarat yang ringan.
Stainless Steel Grade 410
Tipe stainless steel grade 410 ialah tipe stainless steel martensit yang serbaguna dengan kandungan kromium 11,5%. Biasanya diperlakukan dengan panas untuk mencapai tingkat kekerasan optimal, ketahanan panas dan korosi maksimum. Namun, grade ini memberikan ketahanan korosi lebih baik sedikit dibandingkan stainless steel grade 430.
Stainless Steel Grade 420
Grade 420 merupakan stainless steel martensit yang mengandung kadar karbon tinggi. Kekuatannya meningkat signifikan sampai 1000 Mpa ketika mengeras dan menghilangkan tegangan. Memiliki ketahanan korosi yang lebih rendah dari stainless steel austenitic dan feritik. 
Namun cukup untuk menahan alkali, asam ringan, produk makanan, air tawar dan kondisi atmosfer yang normal. Mempunyai tingkat keuletan baik dalam kondisi anil, namun mempunyai ketahanan korosi buruk, sebab dipakai dalam kondisi yang mengeras sepenuhnya.
Stainless Steel Grade 430
Grade 430 merupakan macam stainless steel ferritic yang terdiri atas besi dan krom, konsentrasi nikel, karbon, dan elemen paduan yang sangat rendah. Hal ini menjadikan grade 430 lebih terjangkau. Mempunyai tingkat ketahanan korosi dan panas yang baik yang bisa menangani asam nitrat dan asam organic. 
Mempunyai ketahanan retak korosi tegangan yang sangat baik. Selain itu, tipe stainless steel grade 430 mempunyai kemampuan bentuk baik dan tingkat pengerasan kerja rendah. Tapi tingkat keuletannya rendah.
Stainless Steel Grade 434
Grade 434 merupakan tipe stainless steel ferritic non hardenable paling umum, mempunyai kandungan molybdenum tinggi untuk meningkatkan ketahanan panas dan korosinya. Memiliki performa yang mendekati grade 430.
Stainless Steel Grade 440
Tipe Stainless Steel grade 440 merupakan macam stainless steel martensit karbon tinggi. Mempunyai tingkat kekerasan yang tinggi, dengan ketahanan aus dan kekuatan yang meningkat signifikan sesudah mendapat perlakuan panas. Tetapi tidak disarankan untuk menggunakannya pada suhu tinggi sebab beresiko mengalami over tempering.
Beragam Produk Powertec Bahan Stainless Steel di Megajaya
Setelah memahami macam-macam stainless steel dan mengenal gradenya, kini Anda bisa mengetahui perbedaan tingkat kekuatan masing-masing tipe stainless steel tersebut. Untuk mendapatkan bahan stainless steel terlengkap, Anda bisa mengunjungi Megajaya.co.id. Ada berbagai macam produk berbahan stainless steel di Megajaya, seperti rantai ss, wire rope ss, turnbuckle ss, shackle ss, hingga wire rope clip ss. Cek Sekarang juga di www.megajaya.co.id!
BACA JUGA: